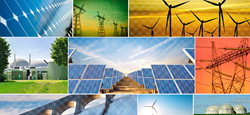 The new systems will allow network operators globally to control demand and meet energy efficiency goals quicker and easier
(PRWEB UK) 26 September 2016
The innovative new products are based on the company's success with its current product line-up of ANM100 and CONNECT+, the new products will allow for expanded control of DER by network operators and DER developers and asset managers.
ANM Strata and ANM Element are the only solutions of their kind, providing true real-time control of DER and offer cutting edge benefits:

Manages severe events with minimal system disruption or need for manual intervention
Reduces the reliance on multiple devices or equipment for protocol translation and data handling
Extends monitoring and control to new and emerging technologies from one unified platform
Reduces time and cost to design, develop and deploy new applications through the standardised approach to DER monitoring and control
Smarter Grid Solutions has already deployed ANM Strata in North America, having trialled the system at the National Renewable Energy Laboratory (NREL) in Colorado, as part of the Department for Energy's "INTEGRATE" project. The project proved the platform's ability to cope with the increase in renewables integration requirements, successfully doubling the capacity of DER on a live system. ANM Element is the main building block in the Flexible Interconnect Solutions (FICS) project with Avangrid in NY State. The forerunning products for ANM Strata and ANM Element have been in operation in UK distribution systems for several years.
Jim Kent, Chief Executive of Smarter Grid Solutions said: "ANM Strata and ANM Element are based on the market-leading Active Network Management solutions we offer today, the new systems will allow network operators globally to control demand and meet energy efficiency goals quicker and easier."
ANM Strata works from a centralised location and can control thousands of generators on a single system, while ANM Element works at a local level and controls single generators or DER units, work as part of a larger scheme controlling more generators in a single area or connect to the wider electricity network control systems.
These new products will be demonstrated at two upcoming events. The first is the Greentech Media Future Energy Conference, which is being held on September 28 in New York City and the second is the Low Carbon Networks and Innovation Conference (the annual Energy Networks Association innovation showcase event), this year being held in Manchester, UK from October 11 – 13.
About Smarter Grid Solutions
Smarter Grid Solutions delivers products and services that enable Distribution Network Operators (DNOs) and developers to integrate Distributed Energy Resources (DER). The company provides world-leading Active Network Management products, planning tools and a range of consultancy and engineering services, and is the only provider to uniquely combine real-time, autonomous and deterministic control into its Active Network Management solutions. Its products are transforming the utilisation and resilience of the grid, and managing connected customers at greatly reduced cost, without compromising safety and security. It supports customers worldwide from its offices in Glasgow, London and New York.