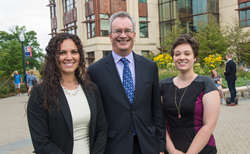 Washington, D.C. (PRWEB) September 23, 2016
In recognition of the United Nations International Day of Peace on Wednesday, September 21, American University held the #WAGEPEACE festival. Nearly 150 elementary, middle, and high-school students from D.C. public schools, charter schools, and after-school programs gathered on the AU campus to hear inspirational remarks from local activists, watch performances by AU students, and attend a 'Peace Fair' that promoted local mentorship and opportunities for peace activism.
The festival was the culmination of the School of International Service's International Peace Day Challenge, which called upon American University students and 2016 graduates to devise a strategy to promote peace and non-violence within the D.C. community. Sponsored by SIS commencement speaker, Ray Chambers, the United Nations Assistant Secretary-General and Special Envoy for Health in Agenda 2030 and for Malaria, and The MCJ/Amelior Foundation, the #WAGEPEACE challenge is an extension of a global campaign that encourages governments and communities to commit to 24 hours of peace on September 21 and to develop strategies to sustain that commitment.
"Since our founding in 1957, we at SIS have answered President Dwight D. Eisenhower's call to prepare students to 'wage peace' at home and abroad," said Jim Goldgeier, dean of the School of International Service.
Amanda Brenner, a 2016 graduate of AU, and Amanda Molina, an SIS graduate student and Washington College of Law alumna, took up Chambers's #WAGEPEACE challenge to make their own meaningful difference in a war-torn world and won the competition with a bold vision for a vibrant partnership among D.C. youth, American University students, and local peace-building organizations.
"If ever there was a time we needed peace, it is now," said Ray Chambers. "We all have the power to champion peace in our communities. I am so proud of young leaders like Amanda Brenner and Amanda Molina who are driving this critical work forward and catalyzing demonstrations of peace across communities."
As part of the #WAGEPEACE challenge, Brenner and Molina partnered with American University's Center for Community Engagement & Service to launch a pilot program that focuses on the promotion of peace and non-violence through educational engagement, workshops, and mentorship. The project will work with students from D.C. schools and community organizations, including Boys and Girls Club and Big Brothers Big Sisters, and many of the partners of the university's D.C. Reads Program, to develop students' peace-building skills and empower them to serve as ambassadors for peace in their local communities.
"Peace begins with listening, flourishes with understanding, and is sustained through love," said Molina. "We wanted the #WAGEPEACE Festival to echo through Washington D.C.'s communities with a message of hope, understanding, and positive change by addressing the root causes of violence. By pairing young students with mentors and celebrating peace, we believe we achieved our first goal, and will be excited to watch sustained relationships flourish and grow to improve D.C.'s vulnerable communities."
American University is a leader in global education, enrolling a diverse student body from throughout the United States and nearly 140 countries. Located in Washington, D.C., the university provides opportunities for academic excellence, public service, and internships in the nation's capital and around the world.
-AU-