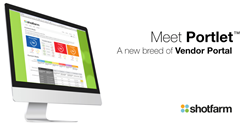 There's a direct correlation between the speed, quality, accuracy and quantity of product information and the Vendor's ability to distribute it. - Kurt Baldassari.
Chicago, IL (PRWEB) September 23, 2016
In a little over a year since its release of Switches, Shotfarm groundbreaking product that allows Retailers to collect ecommerce-deployable Product Information from any number of Vendors and formats, the Company announced the release of its 'Vendor Portlet' companion product.
According to the Company's CEO, Mike Lapchick, the Vendor Portlet is a full featured Vendor Portal system for Retailers that can be configured, tested and operational in as little as a day. "It's such a graceful evolution," says Lapchick. "It was one of those rare and wonderful moments when your company's next big idea just raises its hand."
Once the Retailer sets up its Vendor Portlet, Vendors simply log in, drag & drop media assets and data in any format and connect to the Retailer's Switch. The interface is immediately useable by new Vendors and instantly familiar to thousands of brands already using the Shotfarm platform to manage and distribute product information.
"There's a direct correlation between the speed, quality, accuracy and quantity of product information and the Vendor's ability to distribute it," says Kurt Baldassari who leads Customer Success for Shotfarm. "With a different specification and system for each Retailer, it's otherwise impossible to solve this problem without throwing dozens of bodies at it."
The Company claims to have exhausted every opportunity to make the process efficient, enjoyable and affordable for all Vendors and their Retailers. Once Vendors upload content through one Retailer's Vendor Portlet, they can distribute the same content to any other Retailer by granting access, sharing links, or automatically by connecting to one of the thousands of Switches from Retailers such as Walmart, CVS, B&H, Amazon, BJs, Bass Pro, LampsPlus, REI, and Kroger.
In naming the product, Lapchick cites the Retailer's need for a bonafide PIM as part of a complete portal solution. "Product Information Distribution and Product Information Management are two very distinct disciplines, audiences, and needs," says the Company's CEO. "Portlet is a term we borrowed from the software industry which means 'a component of a Portal'. It also does a great job of conveying the lightweight, modern and true 'plug & play' nature of the solution."
Shotfarm has formalized partnerships with the world's best-in-class PIMs such as Stibo, inRiver, Akeneo, Enterworks, Riversand, Informatica, and several others to make their Portlet available for both distribution and collection of Product Content for their respective Vendor and Retail customers.
Vendor Portlet feature highlights include:

Complete Content Specification Management with over 3,000 possible Conversion, Normalization, Auto-population, and Validation Combinations
Full Item Setup and/or Content Setup Capabilities
Fully Brandable Hosted Experience
Content Editing and Approval
Virtual Master Support (Unlimited Dataset Appending)
Dashboard with Content Health, Brand Communication, New Content Notifications and more…
Complete I/O Compatibility with Any Other Platform
Minimal Vendor Requirement
Shotfarm's Vendor Portlet will be announced at the 2016 shop.org summit in Dallas on September 27th and be available to Retailers this Fall.
About Shotfarm
Shotfarm's Product Content Network is the first end-to-end solution for the Management and Exchange of Product Information that meets the demands of the entire ecommerce industry. Free and simple core functionality combined with a suite of affordable and powerful upgrade options make Shotfarm instantly useful and infinitely scalable.