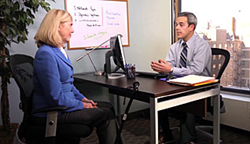 These new titles cover many topics we know organizations need to include in their employee development programs.
Novi, Michigan (PRWEB) September 28, 2016
MasteryTCN welcomes ATS Media as the newest content partner to join the Mastery Training Content Network. With the start of this new partnership, MasteryTCN has published, on its courseware platform, the first batch of courses from ATS Media, including topics on the ADA, diversity, FMLA, and sexual harassment.
"We are so pleased to offer ATS Media videos on our courseware platform," says Jeff Holth, Channel Partner Program Manager at MasteryTCN. "These new titles cover many topics we know organizations need to include in their employee development programs."
The first batch of courses being released includes a series of courses providing detailed overviews on many HR and EEOC compliance issues managers need to know about. There is also a series of three courses called, "Let's Talk," covering bullying, harassment and respect.
The first ten titles now available in MasteryTCN's courseware library are:

Sexual Harassment
Sexual Harassment, California Edition
Let's Talk... Bullying, Abusive Conduct, and Their Consequences
Let's Talk... Harassment - It Happens!
Let's Talk... Respect - It Matters
These courses have been published on MasteryTCN's courseware platform, giving them a standardized learning experience. Every course plays on all devices (including smart phones, tablets, laptops, and desktops) and across all browsers. Each course ends with an interactive learning assessment, which coaches learners to master the material at hand.
MasteryTCN works with HR Cloud Service providers to offer a catalog of over 800 video-based, e-learning programs to employers of all sizes, across all industries. For a complete listing of available courses, visit http://www.masterytcn.com. If you are an employer looking to train your workforce, see if your current HR Cloud Service provider offers MasteryTCN courses or get a referral from us here.
About ATS Media
ATSMedia.com video training programs are the broadest spectrum of high-quality, multimedia training resources available. ATS Media joined the training and development marketplace with the mission of providing businesses and organizations with only the very best training programs and collateral material.
ATS Media boasts hundreds of proven, cutting-edge products, not thousands of mass market programs du jour. Peruse ATS Media's assortment of results-based training innovations in the areas of sexual harassment, all forms of harassment, diversity & respect workplace issues, unconscious bias, customer service, teamwork and more!
About Mastery TCN™
Mastery TCN is the e-learning industry's first Training Content Network. Mastery partners with leading video content providers to co-produce the largest, standardized, workplace e-learning resource library available. MasteryTCN then partners with HR Cloud Service providers to help employers obtain high-quality training resources through the vendors they already prefer. In this way Mastery fulfills its mission of helping build more successful, effective and amazing organizations.