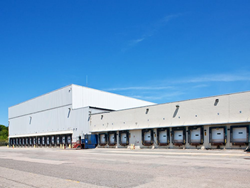 Boston, MA (PRWEB) September 25, 2016
Hackman Capital Partners, LLC of Los Angeles and Calare Properties of Hudson, Massachusetts announced today the completion of a long-term, 218,259-square-foot lease renewal with Home Depot at 625 University Ave in Norwood. The renewal is an essential piece to the long-term stabilization of the property, and complements two other recently completed transactions. Earlier this year PODS and ASD Lighting signed significant leases, totaling 221,605 square feet, bringing the 439,863-square foot building to full occupancy and creating a solid tenant roster for the landlord.
NAI Hunneman Executive Vice President Cathy Minnerly and Vice President Ovar Osvold represented the landlord, while Bob Gibson & Tony Kepano (Atlanta office) from CBRE represented Home Depot.
"Home Depot has been a valued tenant at 625 University Ave over the years. Their space offers ideal ceiling heights, extensive paved outside storage, ample loading, 4 CSX rail spurs, and a central location with easy access –a very unique and rare opportunity," said Minnerly.
Located 15 miles south of Boston at the juncture of Interstate 95 and Route 128, 625 University Ave is set in a popular commercial area adjacent to a wealth of amenities located within University Station. The property offers robust infrastructure, heavy power and CSX rail service.
The property also features an additional 19,592 square feet, which is available for lease in an adjacent building on the property at 615 University Avenue. That building, situated on 2.5 acres, is ideal for warehousing/distribution or light manufacturing with 13 tailboard loading docks and two drive-through bays and one ramped-up, drive-in door.
625 and 615 University Avenue are owned by a joint venture formed by Hackman Capital Partners, Calare Properties and KBS Real Estate Investment Trust. The property was initially purchased in 2007 as part of an 11.36-million-square-foot portfolio. PMRG manages the property.
About Hackman Capital Partners
Hackman Capital Partners is a privately-held, real-estate investment and operating company that focuses on the acquisition of industrial properties, including complete facilities with industrial equipment. Hackman Capital also targets infill flex buildings, which the company redevelops for creative-office and other commercial uses.
Founded in 1986, Hackman Capital has conducted more than $2 billion in real estate transactions across 41 states—having owned, through affiliated entities, over 400 buildings totaling 35-plus million square feet and 24,000 acres of developable land. Approximately 8 million square feet of that portfolio is currently located in the Northeast.
The company is based in Los Angeles, California with regional offices in Columbus, Ohio and Boston, Massachusetts. It currently employs 82 people and manages approximately 300 major tenant companies nationwide, including Home Depot, Staples, Coca Cola, Lowe's, Sony and Lego. For more information, visit hackmancapital.com.
About Calare Properties
Founded in 2003, Calare is a real estate operator focused on acquiring and managing warehouse, manufacturing, research and flex/office assets primarily in the Northeast. The company's experienced team and fully integrated operating platform provide investment, asset management, leasing and property management expertise to drive performance at all stages of the investment process from acquisition through disposition. Calare has led the acquisition of more than15 million square feet of properties, representing $650 million in real estate transactions through funds, direct deals and a multi-asset portfolio. For more information, visit http://www.calare.com.
About NAI Hunneman
Headquartered in Boston, NAI Hunneman is a leading provider of commercial real estate services to corporations, institutions and the private market. NAI Hunneman is a member of NAI Global, the premier network of independent commercial real estate firms and one of the largest commercial real estate service providers worldwide. NAI Global manages a network of 6,700 professionals and 375 offices throughout the world. NAI professionals work together with its global management team to help clients strategically optimize their real estate assets. To learn more about NAI Hunneman and the NAI Global Network please visit naihunneman.com.