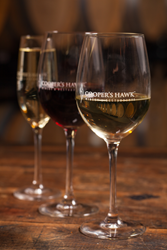 "Our Wine Club members are the heart and soul of the Cooper's Hawk brand. They are re-defining the food and wine lifestyle for their generation, and are committed to forging their own path into
Chicago, Illinois (PRWEB) September 25, 2016
Cooper's Hawk Winery & Restaurants, a leader in modern casual dining, known for their award-winning wines, announced today it has reached a significant milestone in its growth story –the 200,000th member of their Wine Club. The member count represents the largest wine club in the country, and the club has become a platform for a new generation of enthusiasts who think about wine differently than previous generations. Cooper's Hawk Wine Club members are not beholden to the traditions of Old World wine, and are eager to try new blends using fruit from different regions of the world. In addition, they are a group that is attracted to the stories of the individual winemakers and wine-growers, and are looking to be part of the conversation that brings them to life.
"When we opened our first restaurant in Orland Park nearly eleven years ago, we could only dream of having created such a large and engaged community of Wine Cub Members," says Tim McEnery, Cooper's Hawk Founder and Chief Executive Officer. "Today we have nearly 22,000 members in Orland Park alone, and the group continues to grow. Members at each location have a special connection, and that sense of belonging is palpable at Wine Club events across the country."
The Cooper's Hawk Wine Club provides members access to people and places that shape the food and wine industry with trips to wine regions around the world and dinners with celebrated culinarians such as Fabio Viviani and Gail Simmons of BRAVO's Top Chef. Membership also includes a customizable monthly wine program, along with a variety of anniversary and birthday gifts. The company feeds their Wine Club members' desire to try new products by creating a unique blend from varying origins every single month. The goal is to expand members' palates and inspire them to learn and grow as wine enthusiasts. The tasting rooms that front each Cooper's Hawk restaurant are a place for Wine Club members to gather to share and explore the nearly 50 varieties of wine that the company offers.
With a state-of-the-industry winemaking facility at its epicenter, Cooper's Hawk blends, ferments and ages wine from some of the best vineyards across the globe. This approach enables Wine Club members and guests to try classic domestic varietals, as well as those from countries like Chile, Argentina and Italy – all at a reasonable price point. Cooper's Hawk has won over 300 wine awards, including a recent 99-point win for its Lux Pinot Noir at the Critics Challenge International Wine Competition in San Diego, California. The winery is also known for their more exotic selections, such as their Double Gold Ice Wine and their 94-point Gewurztraminer.
"Our Wine Club members are the heart and soul of the Cooper's Hawk brand," says Tom Koenigsberg, Cooper's Hawk Chief Marketing Officer. "They are re-defining the food and wine lifestyle for their generation, and are committed to forging their own path into that world."
Cooper's Hawk was first opened in Orland Park, Illinois in 2005. Operations have since expanded to 24 locations throughout Illinois, Indiana, Missouri, Ohio, Florida, Virginia, and Wisconsin. Five new locations will be opening through 2017. The company has garnered nearly 400 awards for their wine from various national and international wine competitions.
About Cooper's Hawk:
Redefining the modern casual dining experience, Cooper's Hawk is an unparalleled combination of restaurant, winery, Napa-style tasting room, and artisanal retail market. The innovative concept partners with some of the best grape growers in the world to craft the award-winning Cooper's Hawk wine collection. Additionally, Cooper's Hawk boasts one of the country's largest Wine Clubs, a life-style driven monthly affiliation offering exclusive wines, events, and privileges.
More:
Website: http://www.chwinery.com
Twitter: @chwinery
Instagram: @chwinery
Facebook: http://www.facebook.com/coopershawk