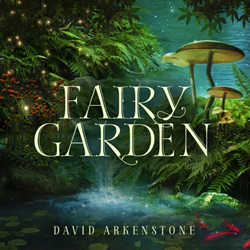 The Fairy Garden has all the enchanting characteristics that people associate with sonic explorer David Arkenstone, including lush orchestration, airy flutes, heavenly harps, dramatic percussion, and more. In a word... magical.
Los Angeles, CA (PRWEB) September 23, 2016
With 3 Grammy® nominations to date, the master of musical adventures has, with THE FAIRY GARDEN, taken his musical mastery even further and many feel it is once again worthy of Grammy® consideration.
Released today by Green Hill Music, composer/performer/multi-instrumentalist DAVID ARKENSTONE says, "I felt like I was channeling my musical self from 25 years ago. THE FAIRY GARDEN is certainly a nod to my early releases."
"As a musical painter, I wanted to make a portrait of a magical place using my sounds. I'm always drawn to the wee folk. Fairies are very popular with humans - the idea of a 'fairy world' is an escape from the familiar. I write soundtracks for the imagination that allow dreams to become a reality for a while."
Arkenstone researched the charming fairy houses on Monhegan Island in Maine and recalled a recent trip to Tahiti. He pondered what a fairy garden might be like, then designed a day in the life of the fairies, from "Sunbreak" to "Journey's End".
"I decided to spend a day in a fairy garden… The first song I wrote was "Sunbreak" and my journey continued from there. I imagined dreamy gossamer filled trails, enchanted caves, mysterious woods and fairies dancing by firelight, then the moon leading the way back from a wonderful musical trip through that magical world," Arkenstone describes from his own beautiful garden overlooking the Pacific.
"Each song is quite distinct. "The Faerie's Kiss" is a Celtic inspired melody, and "Fire Fairy Dance" has a jungle beat… it's one of my favorites. I always like experimenting with different rhythms."
The Fairy Garden features Grammy® winning Susan Craig Winsberg on flutes, and violin virtuoso Luanne Homzy on almost every track. "I'm always so happy to work with two of the best musicians I know," says Arkenstone. "I've done many recordings with Susan and Luanne, and they perform with me in concert as well."
Michael Diamond of Music and Media Focus states: "After a number of recent journeys into diverse musical terrain such as Game of Thrones-inspired Dark Ambient music and the contemporary groove-based Chill genre, on his new release, veteran recording artist and sonic explorer David Arkenstone, has revisited a style that fans around the world will find familiar. The music has all the enchanting characteristics that many people associate with David Arkenstone, including lush orchestration,airy flutes, heavenly harps, dramatic percussion, and more. There is a cinematic quality to the music and I could easily see it as a soundtrack to a Lord of the Rings type movie. In a word… magical."
With 50 albums in release in multiple genres, 20 Billboard hits, film & TV soundtracks and game scores, David Arkenstone is certainly one of the most prolific, diverse, and imaginative musical artists around. It's anyone's guess what adventure he will take listeners on next!
Released by Green Hill Music,The Fairy Garden is available now on Amazon and iTunes.
Download and CDs available upon request.
David's official website: http://www.DavidArkenstone.com
Follow David on Facebook and Twitter @davidarkenstone and Instagram #david.arkenstone
Track list for The Fairy Garden:
1. Sunbreak (4:15)
2. Gossamer Dream (3:55)
3. The Enchanted Cave (3.54)
4. The Faerie's Kiss (3:45)
5. Morning Flight (3:55)
6. Voice of the Wood (4:02)
7. Fire Fairy Dance (4:31)
8. Princess of the Fairies (4:00)
9. The Blessing (4:12)
10. The Garden Fair (4:01)
11. Pools of Moonlight (4:33)
12. Journey's End (4:56)
# # #
Media Contact / Bookings & Management:
Victoria Paige Meyerink
818.800.8770
victoria(at)meyerink(dot)com