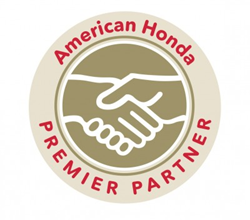 Hudson, OH (PRWEB) September 27, 2016
Lead to Conversion was presented with American Honda's distinguished Premier Partner Award on September 13th, in a ceremony hosted by president & CEO Toshiaki Mikoshiba in Torrance, California. Lead to Conversion was one of 15 award recipients selected from a pool of more than 1,000 eligible suppliers based on excellence in quality, value and customer service.
Lead to Conversion received its award for search engine optimization expertise and support in site architecture, content, and analytics. Lead to Conversion, which recently merged with Intrapromote, was represented by Erik Dafforn, former president of Intrapromote and co-founder of Lead to Conversion.
"We are extremely fortunate to work with an organization like American Honda that values the contributions of its partners so greatly," Dafforn said. "Honda's core focus is the satisfaction of its customers, and a partner recognition program further inspires us to continuously provide our best work." This is the third Premier Partner Award for the combined agencies, with Intrapromote earning awards in 2005 and 2012.
Premier Partner Award recipients play an important role in supporting Honda businesses and operations, including Honda and Acura automobiles, automobile engines and transmissions, Honda all-terrain vehicles, power equipment products and general purpose engines.
"This outstanding group of Premier Partner Award recipients embodies Honda's philosophy of exceeding customer expectations," said Charles Harmon, American Honda's senior manager of procurement and corporate services. "They are critical members of the extended Honda family, and we thank them for their dedication to exceptional quality and service." Read more about Lead to Conversion and how they're the only digital marketing agency to win the Premier Partner Award three times.
About Lead to Conversion
Lead to Conversion is a full-service digital agency offering exceptional website designs and online marketing strategy including SEO, SEM, Social Media, and Conversion Rate Optimization for businesses seeking a competitive edge. Their design and marketing solutions utilize the best practices and enterprise-quality strategies for businesses in all shapes, sizes, and industries.
About Honda
Honda established operations in America in 1959 and now employs more than 40,000 associates in its North American sales, R&D and manufacturing operations with total capital investment in North America exceeding $22 billion. Based on its longstanding commitment to "build products close to the customer" Honda began building power sports products in America in 1979 and now operates 16 major manufacturing facilities in North America producing a wide range of Honda and Acura automobiles, automobile engines and transmissions, Honda all-terrain vehicles, power equipment products, such as lawn mowers, mini-tillers and general purpose engines, and the HondaJet advanced light jet. Honda also operates 16 major research and development centers in the U.S. with the capacity to fully design, develop and engineer many of the products Honda produces in North America.