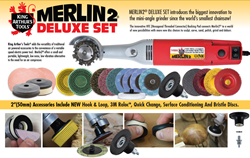 "The biggest innovation to the mini-angle grinder since the world's smallest chainsaw"
Tallahassee, FL (PRWEB) October 31, 2016
King Arthur's Tools, maker of the world's smallest chainsaw, announces the development of a new crossover tool adapter called the HTC (Hexagonal Threaded Connector). The HTC allows thirty five (35) new accessories to fit the Merlin2 electric long-neck angle grinder and has released a line of innovative new accessories that work with the new HTC and backing pad. For the first time, diverse accessories like quick-lock sanders, surface conditioning and bristle discs as well as quick change buffing pads and fine grade sanding discs can be used on an electric miniature long-neck angle grinder.
Specialty 2" (50mm) attachments made by various other manufacturers and previously only available for use with air-powered grinders can now be used with a hand-held electric grinder. For the woodcarver and wood turner, the development of a Merlin2 adapter and accessories opens up a world of new possibilities for creativity and finishing.
To incorporate these many new products, KATools has introduced a new range of complete sets, accessory kits and replacement items for use by woodworkers, carvers and craftsmen. The King Arthur's Tools Deluxe Set contains 43 - 2" (50mm) accessories and is best used for traditional wood working, carving and metal working applications. Also, the new Nick Agar Signature Series includes a line of triple surface tungsten carbide discs and exclusive high-quality, oversize 56mm sanding discs that are new to the market. These new kits include an electric long-neck angle grinder available in 220-230 volt or 110-115 volt, with power cords specific to USA, Europe, U.K and Australia/New Zealand.
King Arthur's Tools is a privately owned company located in Tallahassee, Florida, that makes specialty tools for woodcarvers, sculptors and woodturners. Their entire line of products is available online at KATools.com and select products are distributed through a worldwide network of more than 140 resellers. Visit http://katools.com to learn more.