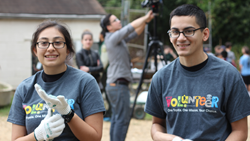 NEEF created NPLD in 1994 to help improve public lands and to educate youth and adults about their importance. Toyota Motor Sales, USA, Inc. is the event's national corporate sponsor for the 18th consecutive year.
Washington, DC (PRWEB) September 23, 2016
On September 24th, more than 200,000 volunteers from across the country will come together for National Public Lands Day (NPLD), the nation's largest single-day volunteer effort for public lands. Hosted by the National Environmental Education Foundation (NEEF), NPLD events will include environmental stewardship activities such as trail restoration, hauling trash, and planting trees and shrubs as well as educational and recreational activities like kayaking, birding and camping.
NEEF created NPLD in 1994 to help improve public lands and to educate youth and adults about their importance. Toyota Motor Sales, USA, Inc. is the event's national corporate sponsor for the 18th consecutive year.
"Each year we ask Americans to set aside one day – the last Saturday in September – to lend a hand to the lands that we use to hike, bike, climb, swim, explore, camp, picnic or simply relax," said Diane Wood, President of NEEF.
What started as three events and 700 volunteers has grown to over 2000 events and more than 175,000 volunteers. Last year alone, NPLD volunteers removed 550 tons of trash, built and maintained 1,600 miles of trail, and contributed an estimated $18.5 million through volunteer services to improve public lands across the country.
According to Kevin Butt, Environmental Director of Toyota North America, "nearly one-third of the land in the U.S. is public land. This means that everyone – businesses, schools, families, government agencies and others – have an important role to play in sustaining these lands. This integrated approach is how we (Toyota) tackle all facets of our environmental mission, across our organization."
Toyota's commitment to NPLD goes far beyond financial support and the bottom line. This year, over 3,700 Toyota employees will be volunteering and participating in NPLD events across the country, providing thousands of hours of service to our communities.
The theme for this years' National Public Lands Day is "I Love My Land" and to help celebrate, we have launched a national video contest to see just how passionate people are about their parks, forests, beaches and other public lands. To learn more about the "I Love My Land" Video Contest and how you can win a large screen TV, GoPro, Camping Gear, a Tablet and more, go to NEEF's website.
In addition to NEEF and Toyota, more than 250 state, county, and city partners as well as a host of non-profit groups such as the Boy Scouts of America, Girl Scouts of the USA and The Corps Network will join the following federal agencies for NPLD: Bureau of Land Management, Department of Defense, National Park Service, U.S. Army Corps of Engineers, U.S. Fish & Wildlife Service and U.S. Forest Service.
As a result of their participation, NPLD volunteers can earn a fee-free coupon that they can use for a future visit to any of the participating national parks within the next 12 months. Events in every state can be found online: http://www.neefusa.org/find-an-event.
Examples of NPLD activities scheduled for this year include:
Yosemite National Park – Celebrating the 13th Annual Yosemite Facelift and the 126th anniversary of the park. This year's projects include a park-wide trash clean-up, cliff face cleaning projects on Half Dome and El Capitan, removal of asphalt from old roads and trails, trail work and more!
Great Falls – Adopt a Crag – Join fellow climbers in Washington DC to give back to this precious historical resource. This is one of the areas longest running Adopt a Crag events, and they need volunteers to help reduce the impact such large numbers of visitors have on this park each year. Register for the event here.
The Paonia Ranger District celebrates National Public Lands Day by inviting every fourth grade student from the North Fork Valley to Lost Lake Campground, a treasured site on the Gunnison National Forest. Students will not only learn how to use strange forestry tools and navigate the campground with a compass, but will be led on a Naturalist Hike and complete a stewardship project. For information, contact Paul Kimpling- pkimpling(at)fs(dot)fed(dot)us
More information can be found at http://www.neefusa.org/public-lands-day.
###
About NEEF
NEEF was chartered by Congress in 1990 to partner with the EPA to advance environmental literacy nationwide. NEEF's vision is bold: By 2022, 300 million Americans actively use environmental knowledge to ensure the well-being of the earth and its people. To achieve its vision, NEEF offers scientific, unbiased, factual information through its own communications platforms, as well as a network of trusted professionals and affinity communities that, with their relationships and credibility, amplify environmental messages to national audiences. NEEF also implements environmental education investments in areas that best connect with everyday life: health, weather/climate and nature where we live, learn, work and play. Learn more at NEEFusa.org – or follow NEEF on Facebook & Twitter @NEEFusa.
NEEF Contact:
Patrick Deavy, Senior Director for Special Projects
202-261-6485
pdeavy(at)neefusa(dot)org
About Toyota Motor Sales, U.S.A.
Toyota established operations in the United States in 1957 and currently operates 10 manufacturing plants. Toyota directly employs over 30,000 in the U.S. and its investment here is currently valued at more than $18 billion, including sales and manufacturing operations, research and development, financial services and design. Toyota is committed to being a good corporate citizen in the communities where it does business and believes in supporting programs with long-term sustainable results. Toyota supports numerous organizations across the country, focusing on education, the environment and safety. Since 1991, Toyota has contributed over half a billion dollars to philanthropic programs in the U.S. For more information on Toyota's commitment to improving communities nationwide, visit http://www.toyota.com/philanthropy.