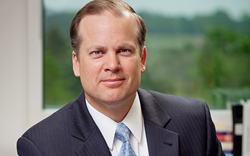 (PRWEB) September 26, 2016
Airport Revenue News is pleased to announce that Michael Landguth, president and CEO of Raleigh-Durham International (RDU), has been named its 2016 Director of the Year in the medium airports category.
"The editorial team at ARN is proud to recognize the work of Michael Landguth," says Ramon Lo, publisher of Airport Revenue News. "Michael has achieved many local successes while at the helm at RDU and has demonstrated his commitment to the larger airport industry through his work with the industry's leading trade groups."
During his tenure as RDU's president and CEO, Landguth has increased the airport's air service by recruiting airlines such as Frontier Airlines, Allegiant Air and Alaska Airlines, increasing the capacity of Delta Air Lines and United Airlines, adding domestic routes including Los Angeles and Seattle, and adding an international route to Paris. Also under his guidance, the airport has completed a major terminal renovation, launched the airport's first asset management program and commenced Vision2040, the airport's master planning program.
Prior to his time with RDU, Landguth served as president and CEO of the Chattanooga Metropolitan Airport Authority. He currently serves on the Airports Council International-North America's medium hub committee, which he co-founded. He is also a member of the American Association of Airport Executives. In addition to being a member of the Greater Raleigh Chamber, the Durham Chamber, and the Raleigh Convention and Visitors Bureau, Landguth is also a member of North Carolina's Aviation Development Task Force, having been chosen by Gov. Pat McCrory in 2014. Landguth holds bachelor's and master's degrees in aeronautical sciences from Embry Riddle Aeronautical University.
"It is such an honor to be selected as medium hub airport director of the year," said Landguth. "I have been blessed by a supportive board, team and community. It is their support that distinguishes RDU from so many other airports across the country, and I couldn't be more proud of what we have accomplished together."
Landguth will be interviewed in and featured on the cover of ARN's November issue. He will be presented this award at the ARN Awards Show on the final night of the ARN 2017 Revenue Conference & Exhibition in New Orleans.
Want to know more about ARN? Interested in doing business in airports? ARN is the source for news and insights on the airport concessions industry. For more information, please visit airportrevenuenews.com.