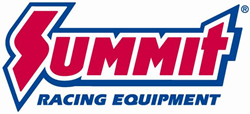 Tallmadge, OH (PRWEB) September 26, 2016
Summit Racing has created Truck Tech Basket Case 1955 Ford F-100 Parts Combos. They show enthusiasts how the Truck Tech folks turned a stalled 1955 Ford F-100 project into a hot street truck packing a twin-turbo Ford EcoBoost 3.5L V6, 5-speed gearbox, and ultra-modern interior.
Basket Case 1955 Ford F-100 Drivetrain Combo
The twin-turbo Ford Racing EcoBoost 3.5L crate engine comes complete with a starter, alternator, and intake manifold. It was installed with Ford Racing's complementing control pack and wire harness. Basket Case also got a Tremec TKO 600 5-speed from American Powertrain mated to a Quick Time bellhousing.
Basket Case 1955 Ford F-100 Paint and Insulation Combo
The interior of a stock 1955 F-100 is tantamount to a mechanical maraca. The Truck Tech guys coated the truck's sheetmetal with LizardSkin ceramic sound and heat insulation. They used Anest Iwata spray guns to lay down the truck's paint perfectly on the razor-straight body.
Basket Case 1955 Ford F-100 Steering Combo
The Truck Tech gang upgraded to a Unisteer Electra-Steer kit with an ididit steering column to reduce steering effort without those pesky hydraulic hoses and pumps. Other components used include a Heidts steering shaft, Summit Racing and Borgeson steering column mounts, and a Billet Specialties steering wheel.
Basket Case 1955 Ford F-100 Interior Combo
Basket Case got a Dakota Digital VHX gauge cluster and Auto Meter boost and air/fuel ratio gauges to ensure accurate readings. A Ron Francis EXPRESS wiring system replaced the Ford's original 6-volt harness. Billet Specialties door handles, widow cranks, mirror, and dome light finished off the interior.
Basket Case 1955 Ford F-100 Completer Combo
The shaved door handles were courtesy of an Auto Loc kit and bear claw latches. A Wilwood pedal assembly and master cylinders control the brake and clutch.
Installing this engine/modifying a vehicle with these parts might not be emissions-legal in some states—check state and local laws before ordering.
See Project Basket Case on PowerNation TV's Truck Tech.
Summit Racing Equipment
http://www.summitracing.com
1-800-230-3030