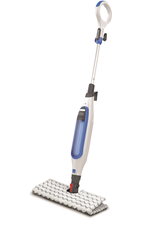 Newton, Mass (PRWEB) September 26, 2016
A leader in cutting-edge steam cleaning technologies, Shark® is enhancing and simplifying floor care with the Shark® Genius™ Hard Floor Cleaning System. An evolution in hard floor care, Shark's newest steam product offers a flexible, tailored, all-in-one solution that delivers improved and easier cleaning than before. The new system cleans the dirt you can see and sanitizes* floors when and where you need it.
"We have listened to our customers, and with the new Shark® Genius™ Hard Floor Cleaning System we are giving them better cleaning, more power and more control and also provide the ability to sanitize* floors when and where you need it," says Mark Rosenzweig, CEO of SharkNinja. "It's an innovative, one-stop system solution that is simply the smartest way ever to clean your floors."
With the Shark® Genius™ Hard Floor Cleaning System, Shark® has improved its patented two side steam pocket and added Dirt Grip™ Technology™ allowing you to lock in more dirt than ever. To answer the consumer's demand for more power, Shark® added Steam Blaster™ Technology that delivers high velocity, targeted steam to eradicate stains. The pads are more absorbent, and floors dry even faster than our previous mops.
The new Shark® Genius™ Hard Floor Cleaning System also offers more control to customize the way you clean finished wood and hard surface floors. With up to three settings of electronic steam control—from a light dusting to deep cleaning, to steam blasting—and the power to sanitize* your floors when and where you need it, this innovation provides the ultimate flexibility for cleaning tailored to your needs. Millions of people have used Shark steam mops to clean their finished wood floors without layering on extra chemicals. And now, for a deep clean in kitchens and bathrooms, it's easy to dial up the steam. Plus, use the Steam Blaster™ Technology on challenging areas for high velocity focused cleaning power. Steam Blaster™ is perfect for places like around the fridge where spills happen, and is ideal for cleaning high traffic areas. Persistent dirt wipes away easily, making for a speedy, deep and efficient clean up.
With the new Shark® Genius™ Mop Head with Touch Free Technology, you never have to touch dirty pads again; it makes attaching and removing cleaning pads both is both mess-free and easy. Touch a button to flip open the mop head, slide it into the pad's tabs, and click into cleaning-ready position. Once the clean-up is completed, discharging the pad is simple with one-button release.
Designed to pick up even the toughest grime, Shark's Dirt Grip™ Technology holds and locks dirt deep into the washable pad. Made with fibers specially engineered to lift, pull and trap more dirt, the washable pads make floors sparkle without streaking or pushing dirty water around.
The Shark® Genius™ Hard Floor Cleaning System is available at major retailers nationwide, starting at $99.99 MSRP.
For more information about the Shark® Genius™ Hard Floor Cleaning System and additional SharkNinja products, please visit http://www.SharkClean.com; follow Shark® on Facebook at Facebook.com/SharkCleaning and on Twitter @SharkCleaning.
*Sanitization studies were conducted under controlled test conditions. Household conditions and results may vary. With Genius™ mop head only when used with steam mop. Not when using Steam Blaster™. See Owner's Guide for instructions.
About SharkNinja
SharkNinja is an innovation leader in the housewares industry and creator of the familiar household brands Shark® and Ninja®. SharkNinja provides the latest in easy-to-use innovative technology with a growing line of products that consists of Shark® cleaning and Ninja kitchen appliances. Products are sold at major retailers and through distributors around the world. Ninja and Shark are registered trademarks of SharkNinja Operating LLC. For more information, visit sharkninja.com.