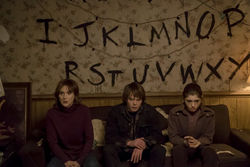 Host a 'Stranger Things' inspired 80's Halloween party.
(PRWEB) September 24, 2016
Already binged-watched Season 1 of "Stranger Things"? Here are 5 tips for hosting an 80's Halloween party.
1. Hit the Thrift Stores for 80's costumes. Look for anything puffy or made from corduroy. Look up 80's fashion tips on Pinterest.
2. Let the 80's sound track rule the night. Not sure which 80's music style to pick? Try creating a station based on Michael Jackson, Bon Jovi, A-ha, Journey, Erasure, Guns N Roses, Madonna, Depeche Mode, New Order or Metallica.
3. Bust out the games. Dungeons and Dragons may not be your cup of tea. Instead, play the new indie game Snaption using snapshots you take of guests in costume as they arrive.
4. The 80's decade was ALL about hair. Find the right 'do for your personality.
5. Now just make the party stranger. Decorate the place with flickering holiday lights, fake cobwebs, and plenty of hand-painted letters on the wall (use washable paint) to create the vibe.