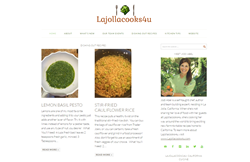 (PRWEB) September 27, 2016
Lajollacooks4u announced earlier this month the launch of its new blog. With the help of team member, Sara Bostrand, its revamped look captures the essence of what this San Diego-based team building and cooking company is all about.
The primary goal of this new blog is to be a relevant and engaging online community where readers are given the opportunity to explore California cuisine, as well as learn about the company's upcoming team building events and cooking classes in the San Diego area. In addition, new recipes and kitchen tips are posted weekly, which give readers the chance to experiment and practice them in their own homes.
Visitors to the blog can also subscribe to Lajollacooks4u and receive email updates when new articles are posted. There is also a new feature which allows users to submit their own recipes with the chance it will be featured on the blog!
To learn more, visit http://www.lajollacooks4u.com.
About Lajollacooks4u:
Lajollacooks4u, founded in 2008, provides an ideal activity for corporate team building, couples and any foodie looking for a unique cooking and culinary experience in a magnificent setting overlooking the Pacific Ocean. Based in La Jolla, a suburb of San Diego, CA, Lajollacooks4u has enjoyed record growth since its inception in 2008 and has been ranked as one of the area's top attractions on the popular travel review site, Trip Advisor. In November 2015, Chef Jodi Abel also released her cookbook, Lajollacooks4u: California Cuisine, an accumulation of the favorite recipes her guests have been raving about. For more information about her cooking events, as well as her cookbook, please contact jodi(at)lajollacooks4u(dot)com or visit http://www.lajollacooks4u.com.