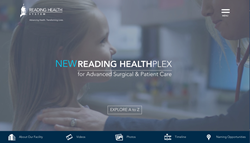 This game-changing effort continues to reinforce Reading Health's focus on delivering value to its different audiences. Randi Brody, Trajectory co-president
Morristown, New Jersey (PRWEB) September 26, 2016
The new Reading HealthPlex for Advanced Surgical & Patient Care is a game-changer. It's one of the most technologically advanced and sophisticated surgical and outpatient facilities in the region (and in the nation). Scheduled to open 4th qtr. 2016, it is conceived, designed and built to provide the most advanced healthcare possible to transform health outcomes and to provide an unparalleled patient, family and physician experience.
Trajectory, a specialist strategy•design•activation agency focused in healthcare and wellness, developed an equally exciting launch marketing plan and program to transform perceptions about Reading Health's delivery of care. Target audiences for launch, both internal and external, included board, physicians, employees, donors, local leaders and the community.
A key touchpoint for launch is this new mobile-friendly interactive microsite designed and built by Trajectory. The microsite experience conveys the transformative nature of the facility and is designed to offer an exciting and immersive brand experience that is also simple, enjoyable and easy to use.
All of Trajectory's launch efforts for the facility – which include physical, digital and other new technology touchpoints – reflect Reading Health's focus on delivering "value" to its different audiences. This project literally builds on that value. From initial concept through to design and construction, it truly embodies what it means to provide value in the organization's mission to advance the health and transform the lives of its communities.
About Trajectory:
Trajectory builds momentum for brands across healthcare and wellness through a proprietary process that helps it create "more moments that matter." The brand strategy, design and activation agency works with clients across the country to create, re-energize and relaunch their brands.
For more information about Trajectory, visit http://www.trajectory4brands.com.