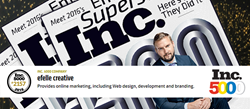 Seattle, WA (PRWEB) September 26, 2016
efelle creative has long been known across the industry as one of the best web design and development firms... and continues to push to become the best. 2016 marks another year in they've made the Inc. 5000 list.. With a 3-year growth rate of over 170% efelle now has a full in-house team of 40 people.
Continually nailing down a spot on this list makes efelle one of America's fastest-growing private companies, with no plans of slowing down. Add this accolade to the list of over 40 national and international design awards over the past two years. With over 600 clients across the nation and even a handful of international clients it's easy to see why efelle continues to climb the Inc. 5000 list. They specialize in custom website design and development giving them the opportunity to push themselves to be the best across all industries.
efelle creative is an award-winning digital agency based in Seattle, WA USA. They offer a broad range of online marketing services including web design, web development, eCommerce services, SEO services, email marketing, and cloud hosting. Founded in Seattle in 2005, efelle is a one-stop shop for companies looking to grow their online presence and grow their business as a whole. If you're ready to take the next step in the online world then nobody can help you get there better than efelle creative. You can contact them here or at 206.557.4122 to learn more!