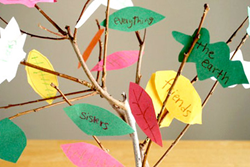 (PRWEB) September 24, 2016
Thanksgiving is coming. Here are 5 ways to survive.
1. Taste tests – ask everyone to bring something they have always wanted to taste test. Think no one can tell which is Coke and which is Pepsi? Bring it to the Thanksgiving Taste Test. Or ask everyone to create their own condiment (for example, do-it-yourself spicy mustard, salsa, or BBQ sauce), blindfold everyone and have them rate each for a winner. And be sure to try it with the pies.
2. This Year's Game - the family needs a new game for the holidays every year at Thanksgiving anyways. Why not get one that helps everyone catch up? Reviewers of this year's new game Snaption applaud it as "Madlibs meets the photos everyone has on their phones."
3. The Thankful Tree – add an element of sweetness by creating a Thankful Tree. Find a leafless tree branch about 3 feet high with a lot of arms for hanging paper leaves. Place it in a pot or vase to keep it upright. Cut out various leaf shapes from construction paper with autumn colors (e.g., brown, orange and yellow). Hole-punch the stem of each leaf. Thread a ribbon through the hole of each leaf, tying the ribbon to make a loop that can hang from a tree branch. Put these homemade leaves in a bowl and set the bowl on an accessible table or counter with pens nearby. Announce to arriving guests that they should write things for which they are thankful on the leaves (anonymous or not) and hang them on the thankful tree. After dinner, while everyone is still together, have each person read one of the leaves aloud. Make a game of it by having everyone guess whose it was!
4. Charlie Brown Thanksgiving in the Round – watch Charlie Brown Thanksgiving and then ask the kids (or even the adults) to act out their favorite scene.
5. The Thanksgiving Spirit – create a drink or two that puts everyone in a good holiday mood. Even a critical mother-in-law wouldn't notice how dry the turkey turned out with these drinks on the table.