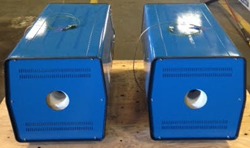 These compact tube furnaces offer customers a number of benefits. With a design that is easy to operate while at the same time provides energy efficiency and premium performance, they are the ideal solution for many customers.
Riverside, MI (PRWEB) September 25, 2016
Lindberg/MPH announced the shipment of four (4) heavy duty tube furnaces to a leading manufacturer of thermocouples for use in a laboratory to heat treat parts inside tubes. The tube furnaces are easy to operate, utilize an energy efficient design, and provide rapid heat-up rates along with fast cooling and response time. They offer superior radial and linear temperature uniformity and require little or no maintenance.
The four (4) heavy duty tube furnaces have a maximum temperature rating of 1500°C and work chamber of 3" in diameter and 34" in length with removable side panels. Double-end silicon carbide heating elements are mounted above and below the furnace chamber for uniform heating. The chambers are constructed of high-temperature graded insulation. The insulating vestibules at the ends of the heated chambers keep the heat loss to a minimum ensuring even greater temperature uniformity. These tube furnaces provide easy element installation, electrical hook-up, and adjustment.
Unique features of these heavy duty tube furnaces include:

Vacuum formed ceramic fiber modules with low heat storage for fast heat up rates
Cross chamber element positioning
Removable side panels
Long life, fast response type "R" thermocouples
About Lindberg/MPH
Lindberg/MPH is a leading manufacturer of standard and custom industrial heat treat furnaces, including pit, box, IQ, and belt type for the ferrous and non-ferrous markets. Lindberg/MPH customers cover a wide range of industries including aerospace/military, automotive, commercial heat treating, energy/oil, electronics and the forging markets. Founded in 1917, the company has more than 75,000 industrial furnace installations worldwide and their equipment is backed by a full range of customer support services and the most extensive replacement parts inventory in the industry. Lindberg/MPH is a proven leader in the thermal processing industry, with a long track record of proven policies and management practices.
Lindberg/MPH is owned by Thermal Product Solutions ("TPS"), a leading American manufacturer of custom industrial ovens used for heat treating, finishing, drying, curing, manufacturing automation and process control. TPS is a global leader in thermal processing products and test solutions with brands including Baker Furnace, Blue M, Gruenberg, Tenney, Lindberg, MPH, and Wisconsin Oven. For more information on equipment solutions from TPS visit the website at http://www.thermalproductsolutions.com. #224188