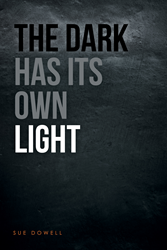 DETROIT (PRWEB) September 26, 2016
With September being Suicide Prevention Awareness Month, author and Pastor Sue Dowell has released her memoir, "The Dark Has Its Own Light," which chronicles her harrowing experience with severe depression and suicide attempts. Dowell spent two years of her life in a psychiatric hospital with one month of it in full-body restraints but was able to survive and have a full successful life as a pastor.
Dowell's memoir weaves through her life story prior to admission at the psychiatric hospital, her time and experiences there and her life afterwards. Despite the struggles she faced during her stay, the author found hope through her faith in God and the unexpected kindness of other patients she encountered.
"My recovery was by no means a smooth journey," said Dowell. "I worked on it every day and am living proof that anyone can go on to lead a fulfilling life and I hope to help destigmatize mental illness from what I've learned."
Dowell uses her expertise as a pastor and personal experiences to provide support for those and their families who struggle with mental illness and suicide. Her powerful memoir serves as a testament that recovery is possible, no matter how dark the time.
"The Dark Has Its Own Light"
By Sue Dowell
ISBN: 978-1-5127-4762-1 (hardback); 978-1-5127-4761-4 (paperback);
978-1-5127-4760-7 (e-book)
Available at the Westbow Press Online Bookstore and Amazon
About the author
Kathy Hurt, who writes under the pen name, Sue Dowell, to protect the identities of those mentioned in her memoir, holds two advanced degrees and has been a church pastor for almost 30 years. This is not the usual life course of someone who spent two years in a psychiatric hospital suffering from severe mental illness and nearly resulted in death from suicide. That she healed and went on to live a full life is testimony to God's amazing grace and the resilience of the human spirit. Hurt currently resides in Southfield, Michigan. To learn more about the author and her book please visit, http://www.thedarkhasitsownlight.com/
###
Review Copies & Interview Requests:
LAVIDGE - Phoenix
Lauren Dickerson
480-998-2600 x 601
ldickerson(at)lavidge(dot)com