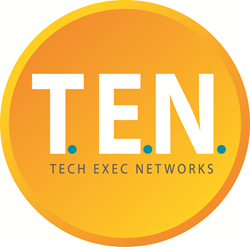 Atlanta, GA (PRWEB) September 26, 2016
T.E.N., a technology and information security executive networking and relationship-marketing firm announced that nominations have closed for the ISE® Northeast Awards 2016. Finalists and winners of the ISE® Awards for both Executive and Project categories will be announced at the ISE® Northeast Executive Forum and Awards Gala on October 4, 2016 at the Westin Times Square, New York.
The Information Security Executive® of the Year Award honors exemplary achievement and excellence in the management of enterprise-wide Internet and network security over the last twelve months. Specifically, this award is given to an executive who's made a significant positive impact on his/her organization through risk management, data asset protection, regulatory compliance, privacy and information security. Judges evaluated these leading nominees based on the following criteria: responsibilities, aligning security with the business, leadership, future vision, applying innovation and building technology partnerships. Nominees include:
-Frank Aiello, Chief Information Security Officer of The American Red Cross
-Vikrant Arora, AVP and Chief Information Security and Risk Officer of New York Health + Hospitals
-Medha Bhalodkar, Chief Information Security Officer of Columbia University
-V.Jay LaRosa, Vice President of Global Security Architecture of ADP
-Jeff Moore, Global Head of Security of NIBR (Novartis)
-Bill O'Hern, Senior Vice President and Chief Security Officer of AT&T
The Information Security Project of the Year Award recognizes projects and teams who've had a significant impact on an organization's risk management or information security posture over the last 12-18 months. This award brings to light the team behind the work. Judges evaluate projects based on scope, defined goals, ability to execute and overall results achieved for the organization. Nominees and their project titles include:
-ADP: Global End-user Micro-Virtualization
-ADP: Global Enterprise Behavioral Profiling
-Billtrust: Enterprise Immune System
-Clarient Global, a DTCC Company: Clarient Entity Hub 1.0
-Colombia University: Perimeterless Network Security
-Comcast: Comcast Assets at Risk Program
-University of Massachusetts President's Office: Massachusetts Advanced Secure Technologies (MAST) Cybersecurity Services
Eligible nominees are selected from the U.S. Northeast region including Connecticut, Delaware, Maine, Massachusetts, New Hampshire, New Jersey, New York, Pennsylvania, Rhode Island, Vermont, and Washington D.C. Nominations are sent to T.E.N.'s distinguished panel of ISE® Judges for review and scoring. Judges have the final approval in determining whether an executive or project team is qualified to participate as a nominee at either the regional or national level. Finalists and winners are not announced publicly until the evening of the awards.
The ISE® Northeast Distinguished Panel of Judges for this year's awards include:
-David Billeter, Vice President of Global Security, Privacy, and Regulatory Compliance of Staples
-Thomas Dunbar, Senior Vice President and Head of Information Risk Management of XL Catlin
-Stacey Halota, Vice President of Information Security and Privacy of Graham Holdings
-Mike Higgins, Chief Information Security Officer of NBCUniversal
-Damian Laviolette, Senior Vice President and Chief Information Security Officer of Webster Bank
-Lou Saviano, Vice President of Global IT Services of Skillsoft
-John Schramm, Vice President of Global Information Risk Management and Chief Information Risk Officer of Manulife/John Hancock
"The ISE® Northeast Awards offer notable cybersecurity professionals the opportunity to benchmark against other leading security programs, while also providing a platform for well-deserved recognition and visibility amongst their peers. The role of the security executive is becoming more critical, so it is vital that a security professional has a network of peers to interact amongst, share best practices with, and collaborate together on innovative ways to make our industry even more resilient and progressive," said Marci McCarthy, CEO and President of T.E.N.
About T.E.N.
T.E.N., a national technology and security executive networking organization, facilitates peer-to-peer relationships between top executives, industry visionaries and solutions providers. Nominated for numerous industry awards, T.E.N.'s executive leadership programs enable information exchange, collaboration and decision-making. Their flagship program, the nationally acclaimed Information Security Executive® (ISE®) of the Year Program Series and Awards, is the nation's largest leadership recognition and networking program for security professionals. Other offerings include T.E.N. Custom Programs and the ISE® Industry Expert Advisory Services, empowering IT solutions providers to gain access to highly credentialed IT business veterans' expertise. For more information, visit http://www.ten-inc.com.