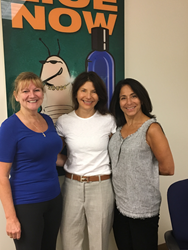 We are proud to offer families in Metrowest both all-natural and organic treatment and protection from head-lice.
Marlborough, MA (PRWEB) September 30, 2016
Deborah Brooks and Leslie Ruggiero recently opened a Lice Treatment Center Franchise because they are convinced their professional talents and personal commitment are ideally suited to LTC's business model and mission of providing excellent service and quality products that address the ever-increasing lice problems within communities in Metrowest Massachusetts. Now, families, schools and camps throughout the Metrowest region can call on LTC® Metrowest to eliminate and avoid lice problems—even "super lice." Metrowest families can reach (781) 523-4033 anytime 24/7!
What Does LTC® Metrowest Provide?
LTC Metrowest offers on-site treatments (in homes, schools and camps) – everywhere head lice are found. LTC's certified technicians understand how traumatic a lice infestation can be. All LTC Metrowest technicians undergo rigorous training at Lice Treatment Center's HQ Academy and are certified to screen and successfully treat children and adults. After undergoing a treatment, families are given a plan for the entire household including information about the all-natural LTC™ products to be used for aftercare.
What Are the Symptoms of Head Lice?

New or persistent itching or a tickly feeling in hair or on the scalp.
Red sores on scalp, particularly behind the ears and at the nape of neck.
The presence of LIVE LICE in the hair or nits (eggs) attached to hair shafts.
Unless a lice infestation is severe it is possible to miss seeing live bugs, because they move so quickly and often hide among the hair shafts.
Metrowest Leadership and LTC® Support
LTC® Metrowest's owner's Deb Brooks and Leslie Ruggiero, both experienced business women and mothers, are proud to be part of the LTC® national network of franchises that has served more than 250,000 individuals, schools and camps for more than 11 years.
Deb's background is in international supply chain with a BS from Brighton University in the UK. Leslie, a former elementary school teacher, has a Master's degree in Experiential Health and Healing as well as a background in the haircare and lice removal industry. The two friends learned about the Lice Treatment Center® franchise opportunity and quickly knew they had found a company whose vision meshed with their own. They decided to form Lice Treatment Center, Metrowest LLC to achieve their goal of providing quick response, superior service to families, schools and camps community-wide.
LTC Metrowest now offers its treatment and protection services everywhere lice—even "super lice"—occur, using all natural, pediatrician approved products in the privacy of a family's home, school or camp.
LTC® Metrowest's owners have trained extensively at LTC headquarters Academy in Connecticut. Their certified technicians also undergo required technician and franchise training. As an LTC® franchise, Deb, Leslie and their team employ LTC's proven treatment protocol and all-natural and organic products that have been physician-developed and tested for safety and efficacy since 2005. LTC's products and services have successfully treated 250,000 families and hundreds of school and camp administrators nation-wide.
More information on LTC® Metrowest services http://licetreatmentcenter.com/lice-removal-services/in-home
So, for help treating a lice infestation anytime day or night, LTC® Metrowest can be reached at (781) 523-4033.