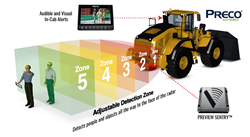 PreView Sentry is the world's most flexible and comprehensive object detection solution on the market today.
Boise, Idaho and Las Vegas, Nevada (PRWEB) September 26, 2016
PRECO Electronics, the global leader in heavy-duty collision mitigation, today announced that they will be unveiling their newest object detection system at the 2016 MINExpo trade show: PreView Sentry.
Heavy-duty industry accidents are costly and can bring an entire operation to a halt. Unfortunately, these accidents are on the rise. According to the Occupational Safety and Health Administration (OSHA), approximately 75% of struck-by fatalities involve heavy equipment. PRECO believes that this is unacceptable, and aims to significantly reduce the incidence and severity of heavy-duty equipment accidents by developing the most reliable safety solutions available to OEMs, upfitters and fleet operations.
"PreView Sentry is the world's most flexible and comprehensive object detection solution on the market today," said Jim Bean, CEO and President at PRECO. "We have spent the last 17 years developing radar based object detection systems. Sentry represents the next generation of collision mitigation technology. We built Sentry with an eye to the future, anticipating applications such as vehicle automation, sensor fusion and system integrations, including telematics and data logging."
Sentry has a fully adjustable detection zone, with the ability to detect objects from the face of the radar up to 30 meters (98 feet), and the width of the detection zone is adjustable to fit almost all vehicle types. Sentry accurately identifies the location and velocity of up to 16 people or objects simultaneously and is designed to withstand the harsh environments encountered by heavy-duty equipment. With built-in fail safe alerts that notify the operator of radar blockage or communication issues, operators and fleet managers can be sure that they are working with the most reliable object detection system available.
"Companies around with world have come to rely on PRECO and our collision mitigation systems to provide their operators with technology that enables them to work safely and efficiently," said Tom Loutzenheiser (@TomLoutz), Vice President of Business Development at PRECO. "PreView Sentry was developed to reduce heavy-duty equipment accidents with the ultimate goal of saving lives."
PRECO will be showcasing PreView Sentry at MINExpo, September 26-28 in Las Vegas at their booth #8085.
PRECO's PreView Sentry is available immediately from PRECO Electronics as well as authorized PRECO distributors and partners. To learn more visit preco.com/sentry or contact PRECO at 866.977.7326 or email info(at)preco(dot)com
About PRECO Electronics
PRECO is the global leader of collision mitigation solutions for heavy-duty equipment industries. PRECO believes that those responsible for heavy-duty equipment operations have a desire to keep the people and property around them safe and free from harm. We design, engineer and manufacture collision mitigation technology optimized for heavy-duty equipment. Our safety products have survived the industry's most rigorous testing for unstoppable performance in the harshest working conditions imaginable, so operators and fleets can perform with greater confidence and peace of mind.
Established in 1947, PRECO has been providing safety solutions to heavy-duty industries for almost 70 years. Learn more at http://www.PRECO.com and follow us on Twitter @PrecoElec.