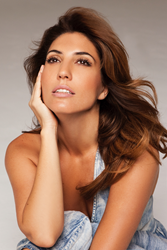 "We are thrilled to have Arianna performa at this year's Gala. She is an amazing talent and a thrilling Italian performer!"
New York, NY (PRWEB) September 26, 2016
New to this year's Columbus Celebration Gala entertainment is Italian singer, stage actress, TV personality and musical theater performer, Arianna Martina Bergamaschi.
Bergamaschi will be performing at Columbus Citizens Foundation's annual Gala on Saturday, October 8. The Gala is held at the Waldorf Astoria and is part of the Foundation's Columbus Celebration weekend. All proceeds from the Gala are used to support the Foundation's mission of providing quality education to students of Italian descent who have academic ability but are lacking in financial means.
Arianna began her career at the age of 14, and since then hasn't stopped working in the worlds of pop music, television and theater. In 2013 she reached #5 on Billboard's Dance Club chart with her song "Sexy People" featuring world-famous rapper Pitbull, and has collaborated with many other international artists including Michael Bolton, Il Volo, Shaggy, Will I Am and FloRida.
"We are thrilled to have Arianna perform at this year's Gala. She is an amazing talent and a thrilling Italian performer," said Foundation President Angelo Vivolo.
In performing at the 2016 Gala, Arianna will be a part of a program that also includes jazz musician Brian Newman, who famously entertained with Lady Gaga and Tony Bennett at the Foundation's 2015 Celebration Gala.
Tickets are still available for this event, for more information email gala(at)columbuscitizens.org.
MORE ABOUT THE COLUMBUS CITIZENS FOUNDATION
The Columbus Citizens Foundation is a non-profit organization in New York City committed to fostering an appreciation of Italian-American heritage and achievement. The Foundation provides opportunities for advancement to deserving Italian-American students through various scholarship and grant programs. The Foundation organizes New York City's annual Columbus Celebration and Columbus Day Parade.