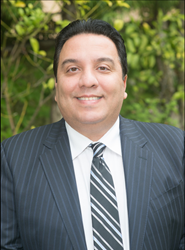 "I come from a long line of doctors in my family. In my OB/GYN residency, I witnessed pure happiness felt by my patients and their partners who used fertility treatments to become pregnant," said Dr. Peyman Saadat.
Los Angeles, CA (PRWEB) September 27, 2016
Reproductive Fertility Center (http://www.reproductivefertility.com) located at 9201 Sunset Blvd #500 in Los Angeles, CA, Medical Director Dr. Peyman Saadat has been named "Top Reproductive Endocrinologist and Infertility Specialist" by the International Association of HealthCare Professionals (IAHCP). IAHCP highlights and profiles the world's Top Endocrinologists. The Association has been designed to spotlight physicians who have demonstrated success, and leadership in their profession.
A double Board-Certified physician in OB/GYN and Reproductive Endocrinology and Infertility, Dr. Peyman Saadat's accolades include votes for "Top 10 Doctor," "Most Compassionate Doctor," and "Patient's Choice Award," amongst others. A recognized expert and pioneer in the field of fertility, Dr. Peyman Saadat is often sought after in the press globally. Hormonal imbalances play a critical role in infertility both in men and women. RFC sees men and women with fertility issues related to these hormonal imbalances. Dr. Peyman Saadat believes in treating the body as a whole, and caring for his patients as the unique individuals they are. Each patient has their own individualized care plan, created for them based on their specific needs, including hormonal imbalances. Reproductive Fertility Center is recognized as one of the foremost centers to treat these issues with high success rates.
RFC has been able to achieve fertilization success rates above the national average. Patients enjoy a highly personalized approach to care, as the center understands that no two cases are identical. Dr. Peyman Saadat and the other physicians take a hands-on approach to patient care, from initial consultations to ultrasounds and treatments.
Recently, a new member has been added to Dr. Peyman Saadat's clinical staff. Dr. Sami Jabara, a double Board-Certified physician in OB/GYN and Reproductive Endocrinology, brings a wealth of experience and knowledge to his role at RFC. In complete alignment with RFC's philosophy of care, Dr. Jabara brings a holistic and personalized approach to his treatment. His focus on treating the whole patient versus just the issue is one of the reasons Dr. Jabara's practice is so well respected.
Separating RFC from other clinics, all their procedures are performed in the same offices, rather than outsourced to a third party, and the center boasts on-site labs for egg, sperm and embryo storage. Also, the RFC operates its own egg donor and surrogacy programs to ensure continuity of care for every patient. Based on Dr. Peyman Saadat's expertise and reputation, patients come from around the world to receive treatment at The Reproductive Fertility Center. RFC prides itself on offering couples and individuals the best treatment available in fertility medicine with an emphasis on IVF, Gender Selection, IUI, Tubal Reversal, and fertility surgeries, as well as fertility testing and more.
About Reproductive Fertility Center:
Reproductive Fertility Center, under the guidance of Dr. Peyman Saadat, continues to offer families to even those who have been turned away from other clinics. Our philosophy is to care for the whole patient, thereby reducing the impact that your treatment has on your everyday life. RFC offers comprehensive fertility treatments, for both men and women, including IVF, egg donor cycles, surrogacy options, fertility preservation, and more. Reproductive Fertility Center has locations in West Hollywood, Burbank, Riverside, and Diamond Bar.