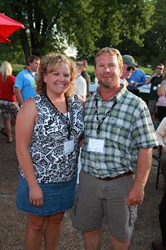 Plainfield, IL. (PRWEB) September 29, 2016
Spring-Green Lawn Care is proud to announce that Kenny Gute has assumed ownership of the franchise serving Ames, Boone, Des Moines, and the surrounding area, from Gary Fairchild.
"We have been at it for many years and this transition was something that we wanted to do years ago, but we started raising a family first," Gute explained. "I worked for good people and when the timing was finally right, we made it officially our business after 25 years."
Gute got his start in the green industry mowing yards in high school. That early exposure led to his decision to attend Des Moines Area Community College and pursue a degree in landscaping. After graduation, he saw an ad in the newspaper for Spring-Green and decided to apply. "I liked making improvements to people's lawns," he recalled. "I loved that you could take a yard and transform it so fast and impress people. I fell in love with it from the beginning and wanted to stay with the company."
When Gute began his Spring-Green career with Fairchild's franchise, he was the only field technician. Within a year in a half, he had become the manager. "I treated the business as my own in hopes that one day I would be able to buy it," he said. Additionally, he credits Spring-Green's corporate staff for his longevity with the company. "They are very easy to work with. You give them a call and you get a solution." He has found the marketing assistance Spring-Green offers crucial in terms of building the franchise. "I like that you have someone besides yourself setting things up for you and testing marketing campaigns," he said.
As Gute makes the transition to franchise owner, his wife will be coming onboard to assist with bookkeeping. "My wife and I have been together for 23 of the 25 years I've been at Spring-Green, and we are both familiar with the company. We have always strived to own this business."
"Creating this kind of natural progression of ownership is part of what Spring-Green has always stood for," said James Young, president of Spring-Green. "We are proud that Spring-Green not only assists new franchise owners grow their business, but also that when the time comes to transition your business, we are there as well to help owners navigate the process."
About Spring-Green Lawn Care
Founded in 1977, Plainfield, Illinois-based Spring-Green Lawn Care has been delivering lawn and tree care services nationwide for more than 39 years. Its service is centered on the beautification of residential and commercial customers in middle-class and affluent neighborhoods and communities. Spring-Green is an attractive opportunity for entrepreneurs and existing green industry business owners who want to align themselves with a business model that has proven economic resilience, healthy profit margins, industry leading business and marketing intelligence, recurring revenue and retirement and succession planning. For more information, visit http://www.springgreenfranchise.com.
Contact: 54 LLC
Jack Burris
704-557-0304
jburris(at)engage54(dot)com