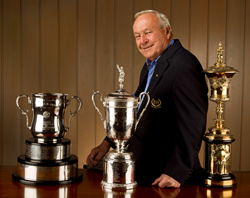 Far Hills, N.J. (PRWEB) September 26, 2016
"Arnold Palmer will always be a champion, in every sense of the word. He inspired generations to love golf by sharing his competitive spirit, displaying sportsmanship, caring for golfers and golf fans, and serving as a lifelong ambassador for the sport. Our stories of him not only fill the pages of golf's history books and the walls of the museum, but also our own personal golf memories. The game is indeed better because of him, and in so many ways, will never be the same."
About the USGA
The USGA conducts the U.S. Open, U.S. Women's Open and U.S. Senior Open, as well as 10 national amateur championships, two state team championships and international matches, attracting players and fans from more than 160 countries. Together with The R&A, the USGA governs the game worldwide, jointly administering the Rules of Golf, Rules of Amateur Status, equipment standards and World Amateur Golf Rankings. The USGA's reach is global with a working jurisdiction in the United States, its territories and Mexico, serving more than 25 million golfers and actively engaging 150 golf associations.
The USGA is one of the world's foremost authorities on research, development and support of sustainable golf course management practices. It serves as a primary steward for the game's history and invests in the development of the game through the delivery of its services and its ongoing "For the Good of the Game" grants program. Additionally, the USGA's Course Rating and Handicap systems are used on six continents in more than 50 countries.
For more information about the USGA, visit http://www.usga.org.