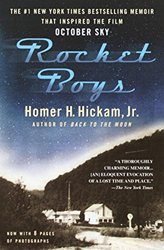 Clearly, there is a place for this inspirational story in the hearts of the American people and really those of the world.
Washington, DC (PRWEB) September 27, 2016
Brighter Sky Productions is pleased to announce that it is moving forward with its plans to bring their musical Rocket Boys to the New York stage. Based on the number one New York Times best-seller Rocket Boys (aka October Sky) by Homer Hickam, this award-winning musical is written by Hickam himself and co-writer Carl Anthony Tramon with music by the accomplished NY composers Diana Belkowski & Dan Tramon.
Over the last several years, the Rocket Boys team have work-shopped and perfected their musical with successful runs in Alabama, Georgia, New York, and Hickam's native West Virginia. Their last run at the Legacy Theater in Atlanta was greeted with standing room only audiences and standing ovations. "Clearly, there is a place for this inspirational story in the hearts of the American people and really those of the world," Hickam says. "It's the reason I've put my heart in the musical version as now it can get out to even more people."
It is Hickam's hope that after a successful New York run and possibly a national tour that the musical will be accessible to theatrical groups everywhere. "What we've seen," co-writer Carl Tramon says, " is an incredible amount of love for this show. With Homer on board, we can do things with the story that no one else can. We've updated and modernized our musical in so many ways to make it meaningful to every segment of society. Rich, poor, white, black, it doesn't matter, they're going to see themselves in this great story."
Studied in schools across the country and praised by teachers, parents, and students, Rocket Boys is a stirring, often funny, but always dramatic story of the Appalachian people of the mining town of Coalwood, West Virginia in the late 1950's. After "Sonny" Hickam (who would grow up to be the author) sees Sputnik fly over, he becomes fixated on building a rocket. Soon, he and other boys (and a volunteer girl) are building missiles that mostly blow up. When Homer, Sonny's mine superintendent father, tries to make them stop, a struggle begins between the children of Coalwood and the adults. When Elsie, Sonny's mother, sees the true meaning of the struggle, she sides with the rocket boys (and girl) and, as Hickam's memoir has it: Until I began to build and launch rockets, I didn't know my hometown was at war with itself over its children and that my parents were locked in a kind of bloodless combat over how my brother and I would live our lives. What follows is a powerful, astonishing story that millions of readers have come to know and love.
To learn more about Rocket Boys the Musical, please visit the website at http://www.rocketboysthemusical.com. For more on Homer Hickam, please go to http://www.homerhickam.com. For all media requests and inquiries, please contact Burke Allen with Allen Media Strategies via email at burke(at)allenmediastrategies(dot)com, or by calling (703) 589-8960.