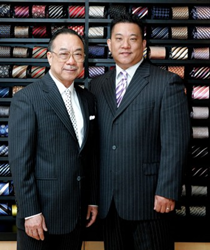 (PRWEB) September 26, 2016
Jimmy Au's For Men 5'8" and Under, Inc. http://www.jimmyaus.com/ has opened a new location in Sherman Oaks, California. Jimmy Au's For Men 5'8" and Under, Inc. is the nation's leader and pioneer in the design and development of short men's clothing. The new location is now the largest clothing store for shorter men in the nation. The store will be celebrating their grand opening on Thursday, September 29th with a ceremony commencing at 11 a.m.
Jimmy Au's is relocating their Beverly Hills store, which has been dressing Hollywood's shorter male celebrities since the 1980's.
"We are excited to serve the Los Angeles community with this new location in the 'heart of the valley'," says vice president and co-designer, Alan Au.
With loyal clients including Jack Black, Ken Jeong, Paul Williams, Scott Hamilton, and members of the popular television shows "Modern Family", "Agents of S.H.I.E.L.D.", "The Blacklist", "True Blood and "Entourage," Jimmy Au's for Men 5'8" and Under has mastered the art of proportion and fit to make every customer look taller, slimmer and "red-carpet-ready".
Founded in 1961, Jimmy Au's has grown from a custom suit business operating out of the trunk of a car in Hawaii, into the largest short men's clothing store in the nation. Their mission is to provide the best short men's clothing collection and the most enjoyable shopping experience they can by designing, developing and delivering proportioned clothing that looks, feels and fits great on men 5'8" and under with service, selection and styles that flatter a shorter man to ultimately make him a Client for Life and to create referral-worthy customer satisfaction.
According to Jimmy Au, "Our clothes for shorter men are not an afterthought, but in fact, that he comes first."
For an entertaining, informative and more in-depth interview about the move to Sherman Oaks from Beverly Hills, styling tips for short men and/or Jimmy Au's design legacy, please contact Michael Levine at (310) 396-6090.