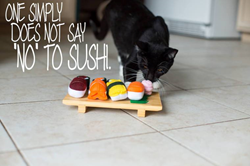 Quirky yet simple catnip infused sushi toys for cats
London, UK (PRWEB UK) 28 September 2016
Katzenworld has teamed up with the cat toy manufacturer Foodie Kat to promote their new range of toys for cats.
The idea for Foodie Kat began with their love for food and love for animals. The founder wanted to create food-themed toys that were simple in design, and fun for both pets and their humans.
"Sushi" by Foodie Kat is a plush sushi toy set that will stimulate a cat's natural instincts to explore and play, and satisfy the need all cats have for a sophisticated and well-cultured experience. The Nigiri toys are each infused with a generous amount of catnip while the Maki toys come with a bell inside to offer a variety of fun entertainment.
Their design goal for the sushi sets was to keep them simple. Simple designs are safe. They reduce the chances of tears, breaks, and choking. No need for fancy stitching, beads, paint, additional ink or printing designs which add to the cost and increase health risks for cats.
For further details check out the full campaign post on Katzenworld or head directly over to the Kickstarter campaign page to back this project.
About Katzenworld:
Katzenworld is an online cat magazine working on providing cat owners and cat lovers with their number one source for:
-Insight on cat care
-Top cat events
-Cat Cafes
-Cat products
Katzenworld also recently re-launched their online shop containing some of the best cat toys and other purrfect products for cat lovers and these toys may very well appear on there soon.