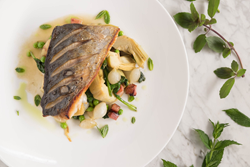 Partnering with Seafood Watch is part of our mission to source responsibly across the menu.
Charlottesville, Virginia (PRWEB) September 27, 2016
Threepenny Cafe announces a new partnership with the Monterey Bay Aquarium Seafood Watch program, making it the organization's first Restaurant Partner in Virginia. By committing to serve ocean-healthy seafood, Threepenny Cafe advances its dedication to responsibly sourced food..
Seafood Watch is recognized internationally as one of the leading advisory programs for sustainability in the seafood industry. Launched in 1999, Seafood Watch helps consumers and businesses choose seafood that's fished or farmed in ways that protect sea life and habitats, now and for future generations. Based on rigorous assessment procedures, its recommendations indicate which seafood items are "Best Choices" or "Good Alternatives," and which to "Avoid." Seafood Watch Restaurant Partners only serve seafood that's been carefully evaluated and approved.
"Partnering with Seafood Watch is part of our mission to source responsibly across the menu," says Threepenny Cafe owner Merope Pavlides. "Even though we're a small independent restaurant, we believe we can make a difference in how people engage with our food system. We think our diners should expect delicious food that supports their health and the health of the planet."
For Threepenny Cafe's Executive Chef Jeff Deloff, partnering with Seafood Watch means knowing the seafood he serves meets the highest standards. "We need to start changing the way we approach eating what comes out of the ocean," explains Deloff. "The ocean's resources are not as renewable and unlimited as people think. By partnering with Seafood Watch we can give the oceans time to rebound by sourcing from reputable and sustainable fisheries."
Thinking about sustainability also means being innovative and encouraging diners to move beyond familiar seafood choices. While many chefs decide they want to add a popular item to the menu and then go about trying to locate it, Deloff works in reverse. He learns which products can be sourced sustainably and then develops dishes accordingly, such as his popular Seared Atlantic Mackerel.
"I decided to go with Mackerel for a number of reasons," Deloff explains. "At one point Mackerel was extremely over-fished, to the point of extinction. The species made a fast recovery, but it had become unfamiliar to many diners. Now the stocks of Mackerel are healthy and it is underutilized in American kitchens. Mackerel is extremely flavorful, high in Omega-3 fatty acids and offers an excellent platform for smoking, grilling and sauteing."
Pavlides adds that working with Seafood Watch goes beyond knowing which species are endangered. "The program focuses on the health of our oceans, but is also involved in developing best practice in seafood farming," she notes. "We're proud to join them in these efforts."
Threepenny Cafe is located at 420 West Main Street in Charlottesville, Virginia. Full menus are online at threepennycafe.com. Reservations can be made online or by calling 434-995-5277.