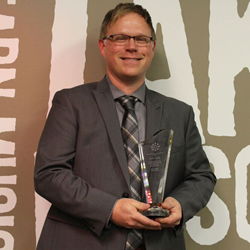 Frederick, Md. (PRWEB) September 26, 2016
A music educator teaches someone how to play an instrument or sing. But, a great music educator inspires learning that transcends beyond the classroom; this person brings communities together through music and gives music meaning.
National school music retailer, Music & Arts, believes it's these people who help shape our world in a positive way. That's why the company continues to recognize music educators through its annual Music & Arts "Music Educator of the Year" award.
"I remember my first experience with music. I was a little intimidated, but my music teacher made learning feel easy. And, as I continued learning, she was the kind of teacher that would share nuggets of wisdom along the way. To this day, some of those nuggets still encourage me and have helped make who I am today," said Renier Fee, director of marketing, Music & Arts.
The winner of the Music & Arts Educator of the Year award will receive $1,000 and a VIP experience at the annual Midwest Clinic International Band and Orchestra Conference in Chicago. There will be a second and third place award package.
To be eligible to receive the Music & Arts Educator of the Year award, nominees must be current, full-time music educators in the U.S. with at least five years of teaching experience in public, private or homeschools. Kindergarten through collegiate-level positions are eligible to participate. The deadline to submit a nomination is Friday, September 30.
To submit a nomination or to learn more about the award, visit MusicArts.com/EducatoroftheYear.
###
About Music & Arts
The first Music & Arts, run by founder Benjamin O'Brien, opened in 1952 and was located in a small house in Bethesda, MD. Still run by the O'Brien family today, Music & Arts now has more than 500 retail and affiliate locations, 120 educational representatives and 33,000 lesson students making it the nation's largest school music retailer and lesson provider. Now based in Frederick, MD, the company of trained musicians offers friendly service for everything musical in your life including instruments, lessons, rentals and repairs. Visit MusicArts.com for more information.