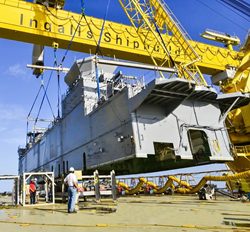 (PRWEB) September 28, 2016
Aras®, the next leader in enterprise Product Lifecycle Management (PLM) software, today announced Ingalls Shipbuilding, a division of Huntington Ingalls Industries – America's largest military shipbuilding company, has selected the Aras Innovator® platform to support the complex engineering processes in the development of the company's technologically advanced warships for the U.S. Navy, and the U.S. Coast Guard.
Ingalls Shipbuilding selected Aras to streamline and standardize processes on a single platform and remove the bottlenecks that occur because of numerous stand-alone systems and databases. Aras will be used to better manage models, drawings, parts, technical specifications, structural planning and planning data. The company anticipates more than 3,000 members of its engineering and product development team will use Aras over time.
Ingalls Shipbuilding will use Aras Innovator to improve the following key areas:
Concurrent Engineering – Ability to proceed with engineering the design of the ship while a model is out for planning and configuration management
Configuration Management – Full configuration & change management of entire warships
Rules Based Design & Planning – Validation of designs from engineering to ensure best practice criteria are used
Model Recovery – Ability to store "Work In Progress" models for use in CAD
Process Improvements – Better management of data and product information during model releases, changes, and other engineering processes
"Designing and building the warships of the future requires solving tough technological challenges today with engineering business processes that provide greater collaboration," said Peter Schroer, CEO of Aras. "Aras is proud to support the business of engineering at Huntington Ingalls Industries as they continue to deliver advancements in their portfolio."
About Huntington Ingalls Industries
Huntington Ingalls Industries is America's largest military shipbuilding company and a provider of engineering, manufacturing and management services to the nuclear energy, oil and gas markets. For more than a century, HII's Newport News and Ingalls shipbuilding divisions in Virginia and Mississippi have built more ships in more ship classes than any other U.S. naval shipbuilder. Headquartered in Newport News, Virginia, HII employs nearly 35,000 people operating both domestically and internationally. For more information, visit:
HII on the web: http://www.huntingtoningalls.com
HII on Facebook: http://www.facebook.com/HuntingtonIngallsIndustries
HII on Twitter: twitter.com/hiindustries
About Aras
We offer the best Product Lifecycle Management (PLM) software for global businesses with complex products and processes. Resilient PLM platform technology makes Aras more scalable, flexible and upgradable for the world's largest organizations, and a full set of applications provide complete functionality for the business of engineering. Customers include Airbus, GE, Hitachi, Honda, Kawasaki, Motorola and XEROX. Aras is privately held with global headquarters in Andover, Mass. More at http://www.aras.com and Twitter @aras_plm