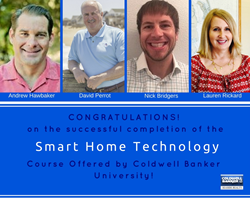 Kitty Hawk, NC (PRWEB) September 28, 2016
Coldwell Banker Seaside Realty announces four independent sales associates completed the Smart Home Technology Education Course offered by Coldwell Banker University. Andrew Hawbaker, David Perrot, Nick Bridgers and Lauren Rickard have completed the curriculum, developed by Coldwell Banker Real Estate, LLC and CEDIA, the global trade association for the home technology market, which provides an extensive look into the evolution of home technology with a focus on how smart home products are changing the way we live in and interact with our homes.
This course will equip the participants with the skills needed to advise clients interested in buying and selling smart homes or installing their first smart home products. As smart homes become increasingly sought after, Andrew Hawbaker, David Perrot, Nick Bridgers and Lauren Rickard now have the knowledge necessary to navigate the smart amenities available in new and upgraded homes. Coldwell Banker Real Estate earlier this year released an official smart home definition to educate real estate professionals, home buyers and home sellers in consort with CNET, the world's largest and most trusted online source of consumer technology news and reviews.
Smart home technology is entering the mainstream and quickly becoming a staple in homes across the country. "Agents who have chosen to invest their time in completing the Smart Home Technology Education Course recognize how essential it is to become educated to help clients make informed decisions about smart home technology as did I while completing my own coursework. As a result of the training, I even added smart features to my own home." says Pamela Smith, Vice President of Sales.
Locally established for over 25 years, Coldwell Banker Seaside Realty is family owned and operated with over 45 dedicated real estate professionals providing the full range of residential and commercial real estate services throughout the Outer Banks and northeast North Carolina. Coldwell Banker Seaside Realty sells more real estate than any other firm on the Outer Banks.*
*As reported by OBAR for the period of 1/01/2015 - 12/31/2015