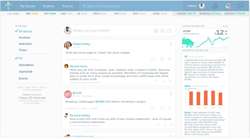 AlphaStreet's goal is to make investing an exciting and straightforward process for individual investors.
Newark, CA (PRWEB) September 27, 2016
AlphaStreet, a complete social ecosystem designed to support individual investors, announces the launch of its iOS app. Available today, with this free app, AlphaStreet users can access their accounts directly from their iPhone. AlphaStreet's free, online financial community provides a one-stop platform for investors to discover, validate, research and also invest using their existing brokerage accounts.
"AlphaStreet's goal is to make investing an exciting and straightforward process for everyday individual investors," said Vishnu Beri, CEO of AlphaStreet. "We're happy to say that our platform has received tremendous user response since its launch earlier this year, with an average user engagement of 25 minutes per session. AlphaStreet is proud to provide our users with easily digestible market-moving news & research, and with our new iOS app, investors can use our platform on-the-go."
AlphaStreet enables users to get up to speed with notifications and alerts of current stock price, market moving news and activities of their network. The platform makes social connectivity easy, enabling users to connect with friends and experts to engage in discussions, ask questions, share knowledge, and understand the viewpoints of other investors. At AlphaStreet, discovery of stocks is fun and intuitive, free from clutter and advertisements.
A few key features of the platform include simple to understand AlphaGraphics that give users a quick snapshot of the company's performance; and AlphaBites, which simplify research and breaking news into easily understandable snippets - making it particularly beneficial for on-the-go AlphaStreet app users.
To download the app from the App Store, visit:
https://itunes.apple.com/in/app/alphastreet/id1154102788?mt=8
About AlphaStreet
Launched in 2016, AlphaStreet is a complete social ecosystem that significantly reduces the complexity and friction in making investment decisions. AlphaStreet is headquartered in Fremont, California. http://www.alphastreet.com
###
Editor's Note: High-resolution product photography is available upon request.