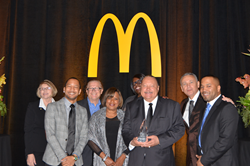 Houston, TX (PRWEB) September 26, 2016
Local McDonald's owner, Dave Moss, received a McDonald's Pioneer Award which is given by the McDonald's corporation annually and recognizes an operator who has made significant contributions to the Houston region. Moss is an owner of seven McDonald's restaurants throughout Houston and was specifically honored for his trailblazing efforts this year.
Moss was the mastermind behind McDonald's Houston involvement in the City of Houston's Summer Job Fair that took place in four community center locations and resulted in 500 new hires for McDonald's with additional hires at other quick service restaurants and convenience stores.
"Dave is often the man behind the scenes making things happen and takes little credit for all the work he's done," said Shametrius James, Field Service Manager. "He is passionate and committed to Brand McDonalds as well as helping others."
Moss was also integral in providing support, coaching and guidance to the Oliver Family upon the untimely death of fellow McDonald's operator Carroll Oliver. He led the charge in raising a $50,000 Crime Stoppers reward and has not faltered in his perseverance to find the criminal of this incident.
"I am proud to award Dave Moss the Pioneer Award for his support of his peers and the community," said James.
Moss began his McDonald's career in 1984. His first location was at 9126 Cullen Blvd. Dave Moss Management, dba McDonald's, was founded in 1984 to umbrella his seven locations. Moss is also active with the Black McDonald's Owners Association, is a current board member for the McDonald's Owners Association of Greater Houston and volunteers with the local Ronald McDonald Children's House and Charities as well as other various community organizations. He is a lifetime member of the NAACP, has worked with the Urban League and is a board member and president of the Delta Education and Charitable Foundation. He is also a member of the Nu Phi Chapter of Omega Psi Phi Fraternity.
Moss's two sons, Jordan and Joseph, who were also recently approved as McDonald's owner operators and will soon open their own restaurant locations to follow in their father's footsteps.
The McDonald's Pioneer Award criteria includes demonstrating leadership among fellow owners, crew members and managers as well as, embracing new ideas and approaches to the business. Owners are measured on their leadership and the restaurant's modernization, new technology, new business drivers and operational tactics.
Moss received the crystal trophy while among peers, his wife Daphne and family at a regional conference in August.
###
About McDonald's USA
McDonald's USA, LLC, serves a variety of menu options made with quality ingredients to more than 25 million customers every day. Nearly 90 percent of McDonald's 14,000 U.S. restaurants are independently owned and operated by businessmen and women. Customers can now log online for free at approximately 11,500 participating Wi-Fi enabled McDonald's U.S. restaurants. For more information, visit http://www.mcdonalds.com, or follow us on Twitter @McDonalds and Facebook http://www.facebook.com/mcdonalds.