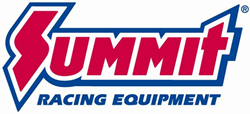 Tallmadge, OH (PRWEB) September 29, 2016
Summit Racing has created Engine Power Sweet Slant Six 1971 Plymouth Duster Parts Combos based on PowerNation TV's Engine Power Sweet Slant Six project. The combos showcase the parts used to build a Slant Six-powered Duster that made 132 horsepower and 170 lbs.-ft. of torque at the rear wheels.
Sweet Slant Six Long Block Combo
The 225 got a rebuild with Sealed Power cast flat-top pistons and rings, a Melling oil pump, and a Fe-Pro gasket set. At the heart of the upgrades is a COMP Cams performance-grind mechanical flat tappet cam and lifter kit.
Sweet Slant Six Induction, Ignition, and Exhaust Combo
Mike and Pat bolted on an Offenhauser intake and a 500 cfm Edelbrock Performer carburetor, plus an A1 Cardone replacement distributor with a Pertronix Ignitor II distributor conversion. An exhaust system was built using a Magnaflow Hot Rod Exhaust Kit and attached to a Hooker Super Competition header and.
Sweet Slant Six Suspension Combo
The Duster's front drums were ditched in favor of a Classic Performance disc conversion. Addco sway bars front and rear suppress body roll. New Hotchkis rear leafs, KYB shocks, and Energy Suspension Hyperflex bushings restored the Duster's handling.
Sweet Slant Six Rear Axle, Wheels, and Tires Combo
The factory Chrysler 7? inch rear end was upgraded with a Yukon Gear 3.23 ratio ring and pinion set. The disc brake conversion required larger 15 inch Coker Mopar Rallye wheels, which were wrapped with Coker BF Goodrich Radial Redline tires.
Sweet Slant Six Completer Combo
The 225 was secured to the Duster with Anchor rubber engine mounts. Other touches included a Four Seasons A/C compressor, a Flex-a-lite flex fan, and a chrome Spectre valve cover.
Modifying a vehicle with these parts might not be emissions-legal in certain states—check state and local laws before ordering.
See the Sweet Slant Six Duster was built on at PowerNation TV's Engine Power.
Summit Racing Equipment
http://www.summitracing.com
1-800-230-3030