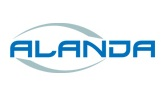 The maturity, vision and global reach of our Consummate Provider platform is a testament to our inspiring personnel and supportive clients.
New Brunswick, NJ (PRWEB) September 28, 2016
Alanda Software, a leading global supplier of Data Transparency & Reporting solutions that address data
quality, vendor management, and regulatory compliance, today announced that the largest life science company in the world has started a global implementation of Consummate Provider® for data collection and quality assurance for all sources of spend.
Consummate Provider® 3 has been selected by the world's largest life science company as the primary data quality platform in support of their global Spend transparency initiative. Provider will be used to process data from both internal and external sources from around the globe, ensuring qualitative standards, and transmitting clean Spend to multiple downstream systems. Features such as integrated reference data sets, Bulk Enrichment, advanced record Locking and data segmentation, along with many other core quality assurance capabilities, make Provider an unparalleled solution to help address many of the challenges present in global Spend transparency. "The maturity, vision and global reach of our Consummate Provider platform is a testament to our inspiring personnel and supportive clients. We're thrilled to have begun a new and challenging engagement that will present greater opportunities for growth and challenges to meet." commented Dean Rossi, President of Alanda Software.
Alanda has recently released the new Consummate Provider® 3 platform, which now takes Spend data quality and Vendor management to a higher level than ever before. Provider's new major upgrade contains many features influenced or sought by our most active clients, such as Bulk Enrichment which enables the improvement of upwards of hundreds of thousands of records from a single command with full audit trail, Access Control to limit access to fields for different User groups, Source File Download, Global segmentation and much more, as well as core performance and usability enhancements. Consummate Provider continues to evolve and improve as the Life Science industry's only OTS Cloud based data quality and vendor management solution with the ability to fit into any pre-existing environment. It quickly adapts, improves data quality, reduces risk and allows reporting and analytic solutions to focus on what they do best.
About Alanda Software
Alanda Software is a leader in cloud-based software for the global life sciences industry, specifically focused on managing all aspects of Transparency Reporting, data quality and vendor management. Since 2005, Alanda Software has been focused on solving the many issues associated with Aggregate Spend. Committed to innovation, product excellence and customer success, Alanda's products are in use globally for customers ranging from the world's largest life science companies to emerging biotechs. Alanda has developed a certified Concur Connector® that automatically pulls expenses from Concur directly into our Transparency Reporting & Data Quality solutions. Our Concur Connector™ package significantly reduces expense, time, and risk when integrated directly with a life science companies Concur Expense tracking solution.