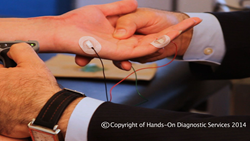 HODS provides high caliber education
Astoria, NY (PRWEB) September 28, 2016
Nathan Shields and Will Humphreys, physical therapists with offices in Arizona and Alaska told the story of one of their patients during the 3rd Annual Symposium of Hands-On Diagnostics that took place this past weekend in New York City. They described how they literally saved the life of a patient who came to their clinic seeking physical therapy for lower back pain. Nathan and Will, because of their special training in diagnostic testing, they were able to perform an electromyography study that revealed that this patient had a severe neurological problem. They immediately referred the patient to the proper specialist who was able to help this patient.
Application of electrophysiology testing is a relatively new trend within the physical therapy community and is claimed as "safe, effective and efficient" by the American Physical Therapy Association as indicated in a 2012 position statement of the association. The American Board of Physical Therapy Specialties provides board certification to physical therapists in various clinical specialty areas. Physical Therapists can become board certified in Clinical Electrophysiology testing and perform electromyography (EMG) and nerve conduction studies (NCS) to patients in need.
Board certified physical therapists are also recognized by the Centers for Medicare Services as qualified providers for EMG/NCS services.
There are only 177 physical therapists who are board certified in clinical electrophysiology compared to almost 12,000 physical therapists certified in orthopedic physical therapy. The requirements for electrophysiology board certification are very rigorous and include over 2000 direct clinical hours in the specialty area and completion of 500 EMG/NCS studies. In 2016 only nine physical therapists got certified in clinical electrophysiology five of which are members of Hands-On Diagnostics (HODS), based out of New York. Dr. Mark Brooks, VP of Clinical Education of Hands-On Diagnostics, gave the HODS star award to the newly certified therapists.
Dr Rick McKibben, chairman of the clinical electrophysiology practice group of the Academy of Clinical Electrophysiology and Wound Management congratulated the 5 newly certified physical therapists and added:"It is very important to recognize those who become certified...because payers and legislators pay attention to what we do and we must do it competently".
"We are very proud that 60% of this year's certified specialists have been educated by HODS and this demonstrates the high caliber of education and the high standards of our organization" said HODS co-founder Dr. Dimitrios Kostopoulos.
Hands-On Diagnostics is a national franchise organization what helps physical therapy practices to establish in-house diagnostic services for their patients. Hands-On Diagnostics that was founded in 2013 has expanded now to 12 different states with over 80 physical therapy facilities. For more information contact them at: http://www.diagnosticsforpt.com/