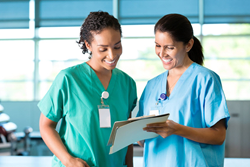 The enthusiasm students showed for digital badging proved that the Consortium is creating a program that will be of real value to students.
Vernon Hill, IL (PRWEB) October 01, 2016
Hundreds of postsecondary students volunteered for the opportunity to take Wonderlic's series of interactive, competency-based assessments for their specific program with the intent of earning digital badges, which demonstrate third party verification of their competencies.
Seventy-five students who participated also responded to a subsequent survey. Their opinions reinforced the plans of the National Soft Skills Consortium that is developing a soft skills training bootcamp, which includes assessments and a digital credentialing program for all workers.
Seventy-nine percent of survey respondents indicated they enjoyed taking the competency assessments more than standard multiple-choice tests. This is easy to understand when you consider that 89% of students indicated, "The test had questions that reflect what I expect to see on the job."
More important to the National Soft Skills Consortium was the positive response students had to digital badging. The Consortium has plans to award badges to students who pass the assessments for each soft skills competency. The enthusiasm students showed for digital badging proved that the Consortium is creating a program that will be of real value to students:

85% agreed they were excited to earn and share their badge
81% indicated they felt more confident about their skills after taking the assessment
A Steering Committee has been formed to direct the initial strategic efforts of the Consortium. The Soft Skills Steering Committee is made up of three major constituent groups: 1) Employers and hiring managers representing small, medium, and large employers across major industries; 2) Post-secondary educators; and 3) Organizations and non-profit entities serving the higher education sector.
The following members serve on this Steering Committee:
Committee Chair
Amanda Opperman, Senior Institutional Effectiveness Specialist, Wonderlic
Employer Members
1. Emmanuel Benoit, President & CEO Jouve North America
2. Bill Campbell, President, Campbell Comfort Systems, Inc.
3. Willis Dane, Owner, Aqua Control
4. Marcy Depew, Master Career Strategist and Management Consultant, Teal-Noir LLC
5. Merri Dillinger, AVP, Associate Testing & Training, Adecco Staffing
6. Scott Ellsworth, 2013-2015 Director, Business Leaders United
7. Don Fraser, Higher Ed ReDesigner, Education Design Lab
8. Sheila Golden, HR Director Wilkinson Real Estate Advisors, Inc.
9. Bruce Hohensee, President, Talent Driven Consulting
10. Dr. Jeffery Hollowell, Leadership Coach, Applied Executive Coaching, LLC
11. Andre L. Johnson, Senior Vice President, Success Training Institute
12. Diane Jones, Senior Vice President and Chief External Affairs Officer, AJsquared Consulting; Former Assistant Secretary of Postsecondary Education, US Dept. of Ed.
13. Russ Merwin, Director of Training, Ryan Lawn and Tree
14. Pauline Owens, Accounting Manager, Showmen Supplies
15. Monnica Seyfang, HR Manager, Riffle Machine Works
16. Jennifer Shahan, State Director, Telamon MD
17. Nathan Singer, HR Generalist, Amarillo Reinforcements Plant
18. Trevor Stokes, Manager of Workforce Programs, Arizona Commerce Authority
19. Jackie Thornton, HR Director, Triton Management Group
20. Jo Lynne Varner, Administrator, Little Rock Pediatric
21. Heather Wood, Hospital Account Executive, Ecolab
Educator Members
22. Bob Gee, Founder & Trustee, American Meridian University
23. Nancy Jones, Senior Director of Student Affairs, Concorde College
26. Pat Lee, Placement Director, Vet Tech Institute
27. Christy Torkildson, Chief Academic Officer, Unitek College
28. Claudia Turner, Instructor, A.D. Nursing, Temple Junior College
29. Cory Werkheiser, Career Services Coordinator, Patrick Henry Community College
Organization Members
30. SJ Barakony, Founder & CMA, Service Before Self Leadership
31. Kathleen deLaski, Founder, Education Design Lab
32. Tracy Petrillo, Chief Learning Officer, Educause
In addition to the companies represented on this committee, over 100 other employers are contributing to this effort.
To join the Consortium and be part of the effort to improve the skills gap, contact Amanda Opperman amanda.opperman(at)wonderlic(dot)com.
About Wonderlic
Wonderlic, Inc. is a privately held company headquartered in Vernon Hills, IL and a founding member of the Association of Test Publishers. The company provides businesses and schools with a comprehensive library of highly regarded assessments and surveys for each phase of the hiring and student selection process. In its 75+ year history, Wonderlic has delivered over 300 million assessments and surveys for more than 60,000 organizations, government agencies, and accrediting bodies.