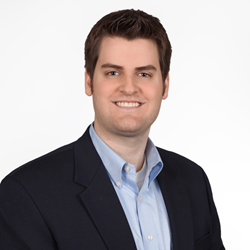 Gregg gives 110% on everything he does, is incredibly conscientious, and has become an excellent team leader in delivering some of the most important projects in the firm. — Blair Hanuschak
Houston, TX (PRWEB) September 26, 2016
Walter P Moore proudly announces that Gregg Taylor, P.E., S.E. has been named the 2016 recipient of the Javier F. Horvilleur Outstanding Young Structural Engineer Award. The Horvilleur Award is presented annually to one young structural engineer at the firm who has best exemplified excellence in technical design, client service, and business acumen. The award is named for and is in appreciative memory of Javier F. Horvilleur, P.E. (1954-2002), who was an inspirational leader-engineer at the firm for over two decades.
Gregg was nominated by Walter P Moore's Blair Hanuschak, a Senior Principal and Managing Director of the Washington, D.C. office, who cited his strong technical skills, incredible work ethic, and commitment to the success of the firm. "He gives 110% on everything he does, is incredibly conscientious, and has become an excellent team leader in delivering some of the most important projects in the firm."
Gregg was selected on the basis of rave reviews from firm principals, each citing stories that highlight his technical skills, his passion to become a successful engineer, and his proven ability to keep clients extremely happy. He is lauded for his "outstanding commitment to extraordinary client experience," which he has demonstrated by re-locating himself and his wife to California for a year to better serve the client on an important project.
In addition to his project contributions, Gregg has served as the D.C. representative to the firm's prestigious Design Management Team as a trained and highly effective mentor for younger engineers, and as a leader in the company's ongoing migration to full digital delivery.
An associate and structural engineer in Walter P Moore's D.C. office (temporarily relocated to LA), Gregg joined the firm in 2012 after two years' practical experience with a precast subcontractor. He earned his Bachelor of Science in Civil Engineering from Virginia Tech and his Master of Engineering from Penn State University. He is the 14th recipient of the esteemed Horvilleur Award.
Fun fact about Gregg: He became an engineer "to have the ability to literally shape the world around us and create something memorable that can stand the test of time." Gregg says if he hadn't become an engineer, he would have been a doctor.
About Walter P Moore
Walter P Moore is an international company of engineers, innovators, and creative people who solve some of the world's most complex structural and infrastructural challenges. Providing structural, diagnostics, civil, traffic, parking, and transportation engineering services, they design solutions that are cost- and resource-efficient, forward-thinking, and help support and shape communities worldwide. Founded in 1931 and headquartered in Houston, Texas, Walter P Moore's 570+ professionals work across 15 U.S. offices and five international locations.
Editor's Note: There is no period after the 'P' in Walter P Moore.
# # #