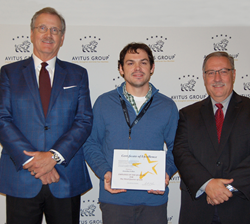 Jourdan certainly represents all of our staff at Avitus Group well and we're lucky to have him on the team.
Billings, Montana (PRWEB) October 05, 2016
Avitus Group Support Analyst Jourdan Feller was nominated by his co-workers and selected by the company's Employee of the Quarter Committee for making significant contributions to the company, clients and co-workers. The committee selected Feller after multiple nominations from co-workers that all pointed to his drive to go above and beyond to make sure everyone he is working with has what they need to complete their jobs.
"Jourdan's nominations all had similar comments about his dedication to the company, co-workers and clients and his strong work ethic. The nominations outlined his above average problem solving skills and ability to think outside of the box," says Avitus Group Public Relations Manager, Dianne Parker. "Jourdan certainly represents all of our staff at Avitus Group well and we're lucky to have him on the team."
Avitus Group's employee of the quarter program is designed to recognize an employee who has made a significant contribution to the company and its clients. "Our Employee of the Quarter Committee received many great nominations, but Jourdan's stood out. We're very fortunate to have him at Avitus Group," commented Avitus Group, Inc. President, Don Reile.
Avitus Group awards the employee of the quarter with a paid day off, a $75.00 gift certificate to a restaurant of their choice and $50.00 in Avitus Group apparel. In addition, the employee receives a certificate signed by the president of Avitus Group, Inc.
"We have all worked with Jourdan and know he is dedicated. In addition to going above and beyond to make sure everyone is taken care of, his qualities that stand out are his work ethic, patience and ability to come up with customized solutions to help our members and our staff," says Employee of the Quarter Committee Chair and Payroll Team Lead Tana Erickson.
"It is an honor to represent Avitus Group as the Employee of the Quarter. I am so thankful to work for a company that provides employees with the tools needed to be successful. I would not have been in a position to receive nomination for this award without the support of my fellow Information Systems co-workers and all of the talented staff I've been lucky enough to work with on complex projects. It's a pleasure to come to work each day when you get to work alongside people of the caliber you find here at Avitus Group," says Avitus Group Applications Support Analyst and Employee of the Quarter Jourdan Feller. Feller joined Avitus Group in 2013 as part of the accounting department and has since been promoted to his current position within the IS department.
Avitus Group is a worldwide company that simplifies, strengthens and grows businesses by providing 'back office' support (Payroll, accounting, taxes, recruiting, information technology, human resources and much more.) When a business uses Avitus Group, all of the necessary yet burdensome functions of the business become Avitus Group's responsibility, so the business can focus on what it does best. Avitus Group serves clients nationwide through regional office locations from coast to coast. The company also serves international clients through partner locations in Europe, Canada, China, England, India, Japan and Singapore.