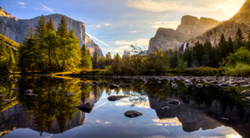 Fall visitors have exclusive access to the annual foliage show, where the Yosemite Valley's deciduous trees pop with a dramatic display of color against their evergreen neighbors.
FISH CAMP, Calif. (PRWEB) September 27, 2016
With summer crowds back to school and work, this is the prime season for uninterrupted adventures. Fall in Yosemite National Park is filled with quieter moments and a showcase of color. Whether rounding up a group and traversing the trails or planning a romantic escape with a special someone, Tenaya Lodge at Yosemite amplifies the exhilaration and enjoyment with special packages to experience the best of this rejuvenating and romantic time of year.
Fall visitors have exclusive access to the annual foliage show, where the Yosemite Valley's deciduous trees pop with a dramatic display of color against their evergreen neighbors. Bigleaf maples create yellow outlines of riparian areas along the southern wall of Yosemite Valley, black oaks turn golden yellow to dark orange, and dogwoods take on red, pink and yellow autumn hues. The sugar maple near Yosemite Chapel turns brilliant red, creating an extravagant backdrop for photographs.
Guests can fill their days with exploration before retiring to the lodge for a relaxing spa treatment, intimate dining experience and the enjoyment of a local vintage by the warmth of one of Tenaya's many fireplaces.
Tenaya Lodge at Yosemite offers a range of packages that appeal to autumnal activity enthusiasts. Lovebirds will "fall" in love with Tenaya Lodge's cottages, the ideal place to enjoy a couples' escape. Just a short walk from the main lodge's amenities and activities, the cottages are nestled among fragrant incense cedars and towering sugar pines and feature romantic details like inviting fireplaces and private outdoor seating areas. Tenaya's Fall Cozy Cottages package gives a VIP experience, offering a bottle of wine and chocolate-covered strawberries upon arrival, a Yosemite park pass, daily breakfast for two and a 20% discount for a couples' massage at the luxurious Ascent Spa.
The Fall Spice & Everything Nice package includes nightly accommodations in a newly renovated premium lodge room and a 60-minute warming ginger massage or facial. This offer is fabulous for thawing the brisk fall chills. And in the late fall, guests can indulge in the Hot Toddy for the Body package. This sweet offer includes nightly accommodations in a renovated premium lodge room and a
60-minute maple butter massage or facial. Guests will love indulging in Tenaya's special seasonal treats because they have all the spice and none of the calories.
Fall in Yosemite National Park is all about golden sun-filled days, crisp starry evening skies and quiet relaxation. For those who want the extra exploring time and find it difficult to leave after just one night, Tenaya Lodge's special Fall Offer won't disappoint—it includes a complimentary Yosemite National Park pass and breakfast for two with a two-night stay.
About Tenaya Lodge at Yosemite
Tenaya Lodge at Yosemite is an all-season resort framed by noble evergreen forest and a rich range of Sierra recreation. The lodge, set adjacent to Yosemite National Park's South Gate at an elevation of 5,288 feet, offers 302 rooms, suites and mountain cottage accommodations. Tenaya Lodge offers easy access to Yosemite's iconic attractions and many guests savor the alpine serenity of Ascent Spa at Tenaya Lodge. Resort dining options run the table from casual to candlelit at Sierra, Jackalope's, Timberloft and Embers restaurants. For more information, visit TenayaLodge.com.
About Delaware North
Delaware North is one of the largest and most admired, privately-held hospitality companies in the world. Founded and owned by the Jacobs family for nearly 100 years, it is a global leader in hospitality and food service with operations in the sports, travel hospitality, restaurants and catering, parks, resorts, gaming and specialty retail industries. Its portfolio includes high-profile venues ranging from sports stadiums, entertainment complexes, national parks, restaurants, airports, and some of the top regional casinos in the country. The company also owns a selection of award-winning destination resorts, as well as a series of premium restaurants and catering services that are leaders in the industry. Delaware North has annual revenue exceeding $3 billion with 60,000 employee associates serving half a billion guests in the United States, Canada, the United Kingdom, Australia, New Zealand, and Asia.