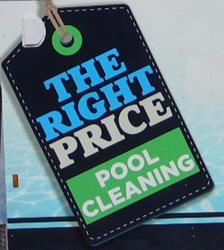 Ocala Florida (PRWEB) September 27, 2016
The economy in Florida is far from booming for Democrats or Republicans. The Right Price Pool Service Inc. has opened their doors in Ocala Florida to bring quality home services for business and residents alike at affordable prices. Central Florida residence are tired of paying too much money for below average work and The Right Price Pool Service Inc. is stepping up to provide much needed change in Ocala Florida.
Providing top notch pool cleaning, pool enclosure re-screening, pool deck brick paver installation, vinyl liner installation and professional pressure washing to Ocala, The Villages, and the surrounding areas is their highest priority. Technology and Marketing is a huge part of The Right Price Pools Service Inc.'s plans for success. Check out their state of the art website at therightpricepc.com.
The Right Price Pool Service Inc. has a patent pending design on a new above ground pool made from recyclable plastic which will allow home owners to be able to set up, take down and store the pools very easily. The goal is to give the world a durable above ground pool that will last forever at an affordable price. The new above ground pool will be named "UpRight Pools." These pools will be one of a kind and anyone will be able to add any design they can dream of to the outside of the pool to personalize the pool to their liking.
President & CEO Theodore Price had this to say:
"I have recently partnered up with Ryan Gandy former owner of Up Right Pools; together, we will be un-stoppable when it comes to everything pools. Ryan's is an expert at vinyl liner & brick paver installation, so combing our skill sets, we will have every aspect of your pool expertly covered. No matter what walk of life you may come from, it's our pleasure to provide you with 100% satisfaction every time."
Ryan Gandy VP had this to add:
"Theodore Price is a seasoned vet at making company's run smoothly, he gets more done with less then anyone I have ever met. I have witnessed first hand his ability to take any product and make it rank on Google and Amazon which will increase our sales quickly. Our new partnership is going to have a huge impact not just on Central Florida but the world!"
For more information contact TJ Price or Ryan Gandy @ 1-877-622-POOL
http://www.therightpricepc.com