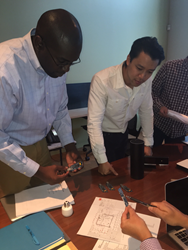 Seattle, WA (PRWEB) September 28, 2016
The Burrard Group, developers of the 383-unit NEXUS condominium tower in downtown Seattle, recently announced a collaboration with Seattle-based IoT company Sirqul to establish a new product category for residential real estate – the smart connected building.
"Seattle is ready for NEXUS," said Christian Chan, Executive Vice President of Burrard. "It's about time that a city recognized globally for progress, innovation and technology meets a residential community that can keep pace."
Chan appointed Robert Frederick, President and CEO of Sirqul, to chair a committee that will deliver the high-tech platform at NEXUS. The committee, consisting of leading experts in development, technology and consumer lifestyle marketing, will assist the Sirqul team in conceptualizing and programming an agnostic system that combines cutting-edge smart devices and cloud services into a custom app for residents, guests, building staff and 3rd party providers. The system will implement best-in-class technologies, including proprietary hardware that is being developed by Sirqul for the project, into the NEXUS building upon completion in 2019.
Frederick is an MIT grad and MIT Technology Review Magazine TR 100 award winner who has authored 32 issued patents and participated in numerous social and tech startups. He also led Amazon's first efforts in mobile and voice recognition with Amazon Anywhere in 1999. In 2002, Frederick became the technical co-founder and chief architect of Anywhere's evolution into Amazon Web Services (AWS), a new cloud offering that changed application development and disrupted traditional software business models.
"Smart spaces within residential communities will eventually be as expected as indoor plumbing, but it takes thought leaders like Burrard Group to change the paradigm," said Frederick. "Together we aim to deliver a future-proof environment that will greatly enhance the lifestyle offering of NEXUS while improving the overall efficiency of its operation."
Burrard and Sirqul are in the process of establishing the NEXUS Living Lab, a facility located in the forthcoming NEXUS Sales Center, where the team will review and test the latest evolutions in home automation and smart systems involving lighting, climate control, security, entertainment, plugs and appliances, just to name a few. Other innovative explorations include voice and gesture activation, and proximity detection systems. Upon opening in January 2017, buyers, brokers, and the general public will be invited into the Living Lab to join the conversation and take part in the demonstration of these pioneering technologies.
The prospect of a tech-savvy high-rise combined with progressive architecture, robust amenities and an enviable in-city location has already drawn significant interest. Since the opening of a limited Preview Center in June 2016, prospective buyers have reserved the opportunity to pre-purchase 80% of the 383 homes, each reservation requiring a fully refundable $5,000 deposit. Reservations will be converted to binding presales commensurate with groundbreaking, scheduled for Winter 2016/17.
Dean Jones, President and CEO of Seattle-based Realogics Sotheby's International Realty says the market is craving innovative product concepts while the opportunity for ownership at NEXUS is particularly attractive as low interest rates and escalating rents means it can actually be less expensive to own versus lease after only a few years. Reservations also mean buyers can program their future without fear of multiple offers, escalating prices or missing out.
"NEXUS is a game changer on many levels, and a sense of excitement and community has already begun to develop amongst our buyers," adds Jones. "We haven't even broken ground yet; imagine what a few years of programming will do. This is the condo of the future that Seattle has been waiting for."
About The Burrard Group (http://www.Burrard.com) – The Burrard Group is a real estate development company that focuses on design, quality of life, and innovation. The company has been consistently creating vibrant residential communities for 25 years, and has built a diverse portfolio of master-planned communities, multifamily developments, high-end single family residences and resort lodging properties.
About Sirqul (http://www.Sirqul.com) -- Sirqul is an IoT platform with 67 modular building blocks of APIs and SDKs, empowering companies and organizations of all sizes to deploy IoT solutions in the Cloud and at the Edge. Sirqul also offers 30 customizable templates for applications and dashboards that can be branded or extended to build any type of IoT application.
About Realogics Sotheby's International Realty (http://www.RSIR.com) - Realogics Sotheby's International Realty is a leading global sales and marketing brokerage firm in the Pacific Northwest. Recognized by the Puget Sound Business Journal amongst the fastest-growing private companies in Washington State for 2012, 2013, 2014, 2015 and 2016 the boutique real estate firm of 170+ brokers consistently rank among the top producing firms within the markets that it serves with branches in downtown Seattle, Bainbridge Island, Kirkland, Issaquah and Madison Park.
EDITORS NOTES: For high-resolution photography contact Krista Dunn at 206.448.5752 or email Krista(dot)Dunn(at)RSIR(dot)com.