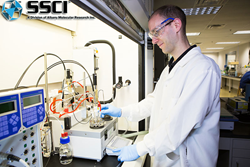 West Lafayette, IN (PRWEB) September 30, 2016
SSCI, a division of Albany Molecular Research, Inc. is pleased to see the US Food and Drug Administration (FDA) recently take the important step to revise the draft guidance to the industry on the regulatory classification of pharmaceutical cocrystals. As the established leader in small-molecule cocrystal technology and development with a full-suite of proprietary and patented methods for preparing and characterizing cocrystals, SSCI is uniquely positioned to create valuable cocrystal intellectual property for its clients.
Exploring the opportunities available when cocrystals are used to modify the supramolecular properties of crystalline pharmaceutical compounds and the regulatory implications of the latest FDA guidance is the aim of two Lunch and Learn events to be held November 15, 2016 at the San Francisco Airport Marriott, 1800 Old Bayshore Hwy in Burlingame, CA and December 8, 2016 at the Boston Marriott Cambridge, 50 Broadway in Cambridge, MA. An additional webinar featuring SSCI, which will include this topic, will also be hosted by Strafford Publications, Inc. on November 1, 2016.
Eyal H. Barash, JD of Barash Law, LLC and Chief Patent Counsel to SSCI and Dr. Steef Boerrigter, Group Leader in Materials Science at SSCI will introduce participants to the concept of solid forms, with specific focus on the revised FDA Draft Guidance on Cocrystals, which likens cocrystals in the same group as solvates. Attendees will take away innovative patent strategies for cocrystals, how solid form claims are drafted, and examples of recent case law. These sessions will also provide specific examples of products in the Orange Book using patents for such forms to provide drug substance protection beyond composition of matter, and will discuss both patentability and infringement issues related to such patents.
Since registration at each Lunch and Learn session is limited to forty participants, please register early by visiting http://www.ssci-inc.com and follow the "Lunch 'n Learn" link. Lunch service will start at 11:30 a.m. (local time), with the presentation starting at approximately 12:00 p.m. (local time).
About the Presenters
Dr. Steef Boerrigter is currently a group leader in Materials Science at SSCI. Beyond performing experimental screening for polymorphs, salts, and cocrystals, his group specializes in crystal growth for single-crystal structure elucidation and is investigating computational methods for virtual coformer screening. Dr. Boerrigter obtained his PhD in Materials Science from Nijmegen University (Netherlands) on the subject of crystal morphology prediction. In 2002 he moved to Antwerp, Belgium where he worked on a Marie-Curie postdoctoral fellowship at the imaging company Agfa-Gevaert. He has been associated with the Industrial and Physical Pharmacy Department in the College of Pharmacy at Purdue University since 2003 and currently serves as an adjunct assistant professor.
Eyal Barash, JD is a patent attorney who specializes in pharmaceuticals and chemical products. He currently practices in Lafayette, Indiana. His practice includes drafting and prosecuting patent applications, client counseling, and negotiating licenses and other contracts. A native of West Lafayette, Mr. Barash obtained undergraduate degrees in chemistry and history from Indiana University, a Masters in physical chemistry from UC-Berkeley and his law degree from Northwestern. After practicing in Washington, DC for eight years, he returned to Indiana to work with emerging technology companies. Mr. Barash is a frequent speaker both nationally and internationally on intellectual property topics related to pharmaceuticals. In addition to his private practice of law, Mr. Barash is the Chief Patent Counsel to SSCI and has an adjunct appointment in Chemical Engineering at Purdue University.
About SSCI
SSCI, a division of Albany Molecular Research Inc., provides industry leading contract solid-state and analytical testing services and exists to help companies in the pharmaceutical, food, agrochemical, and other chemical industries develop better products and get them to market more quickly. Over the past quarter century, SSCI has provided comprehensive cGMP research and analytical services in the characterization and chemistry of solid materials, with particular expertise in small and large molecules being investigated for pharmaceutical use. As AMRI's Center of Excellence for Solid State Chemistry, its offerings include early candidate support services (in vitro analysis, stability, solubility, dissolution, excipient compatibility), solid form screening and polymorph, salt and cocrystal screening, form selection, particle engineering (process development, particle size method development), property improvement, crystallization of difficult materials, process control, biochemical analysis, full analytical chemistry support including method development and validation, intellectual property consulting and litigation support, and related research activities.
For more information about cocrystals or SSCI's other solid-state services, please contact 1-800-375-2179 | http://www.ssci-inc.com.