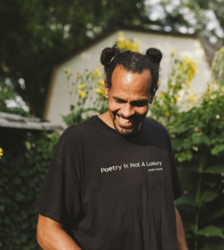 Claremont, Calif. (PRWEB) September 27, 2016
"I know I can be long-winded sometimes./I want so badly to rub the sponge of gratitude/over every last thing, including you"—2016 Kingsley Tufts Poetry Award winner Ross Gay brings his joyful, exuberant verses back to Claremont Graduate University next week for a week-long residency devoted to the power and practice of contemporary poetry.
 
Gay's residency will include several events open to the public, including an October 3 reading at 6:30 p.m. at the Claremont Library and two October 7 events—a 1 p.m. poetry workshop at the dA Center for the Arts in downtown Pomona, and a 6 p.m. launch party for the new issue of Foothill: a journal of poetry at the university's East and Peggy Phelps Galleries.
Gay will also serve as guest teacher for several university classes as part of his Tufts residency.
 
The residency provides the public with a rich opportunity to engage and work closely with a poet praised by NPR for creating poems "bursting with joy … Whitmanesque."  To find out more event information and how to RSVP, see the link at the bottom of this announcement.
 
Established at CGU in 1992, the Kingsley Tufts Poetry Award honors the work of poets who are in mid-career with a cash prize of $100,000; the Kate Tufts Discovery Award, established the following year, honors new voices with an award of $10,000.
Long regarded as among the leading awards in the field of poetry, the Tufts Awards have been presented to a distinguished group of recipients, including B.H. Fairchild, Henri Cole, D.A. Powell, Linda Gregerson, Yusef Komunyakaa, Brandon Som, Yona Harvey, and many others.  Past judges include Carol Muske Dukes, Alice Quinn, Paul Muldoon, Allison Joseph, and Robert Pinsky.
This year, Gay received the Kingsley Tufts Poetry Award for his Catalog of Unabashed Gratitude, a volume that the New York Times says "offers up a muscled poetry of a thousand surprises, giving us a powerful collection that fireworks even the bleakest nights with ardency and grace."
 
Gay has told interviewers that he draws poetic inspiration from his involvement as a founding member of the Bloomington Community Orchard, a volunteer-supported orchard in Indiana devoted to feeding the local community and teaching them about sustainability.  
The community orchard "has been one of the best experiences in my life," he said in a recent interview, describing how gardening influences his writing.  "There's probably been nothing else in my life that's trained me to go slow the way gardening has, that's compelled me to look very closely."
 
· Media: phone and in-person interview opportunities with Gay are available. Please contact CGU's Executive Communications Director Nick Owchar at (909) 621-8396 or nick.owchar(at)cgu(dot)edu 
 
· Event schedule: please visit:  http://sites.cgu.edu/tufts/2016/09/26/2016-kingsley-tufts-winner-ross-gay-cgu/