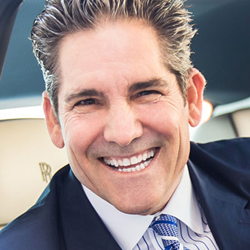 Education has a totally different outcome when you get to choose what you are learning.
Miami Beach, FL (PRWEB) September 27, 2016
Grant Cardone, New York Times Bestselling author, is releasing his much-anticipated book Be Obsessed or Be Average on October 11, 2016. All proceeds the author receives for this new book will be donated to the charities of Drug Free America and Drug Free World, which bring about awareness of the epidemic spread of prescription drugging of children, young adults, and even seniors.
In the new book Be Obsessed or Be Average, Cardone says that your kids Attention Deficit Disorder (ADD) might be a blessing. The condition is also known as Attention Deficit Hyperactivity Disorder (ADHD). Reports show that 11% of children are diagnosed with ADHD.
Cardone believes that ADHD is not a problem, it is the drugging of children that is the problem. Cardone was prescribed lithium for his so-called disorders, but instead he threw it away and allowed his obsessions to make him successful.
"Replace your prescriptions with permissions to be obsessed, and change your session on the couch for an obsession session doing what you love!" — Grant Cardone
In Be Obsessed or Be Average Cardone shows how obsessions and supposed neuroses are the very things every great person that has ever walked this planet has had. Pre-orders are on sale now, shipping October 11. Cardone's previous works include The 10X Rule, Sell or Be Sold, The Closer's Survival Guide, and If You're Not First You're Last.
Grant Cardone is a massively successful entrepreneur, real estate investor, sales trainer, consultant, and public speaker. He also owns the Whatever It Takes Network, a digital home for business owners and other success-minded people, where he hosts, directs, and produces programs that help people do whatever it takes to succeed. Grant appears regularly on The Steve Harvey Show. His bestselling books include The 10X Rule and If You're Not First, You're Last. He lives in Miami Beach with his wife, Elena Lyons Cardone, and two children. Grant is extremely active in philanthropic ventures and has raised over $100 million for charity. For more, visit: http://www.grantcardone.com/obsessedkids and check out @GrantCardone and #BeObsessed on Twitter.