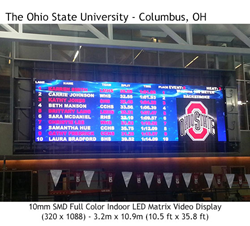 The massive display measures 35.8 ft wide x 10.5 ft high
Loveland, CO (PRWEB) October 12, 2016
Colorado Time Systems (CTS), a PlayCore company, is pleased to announce the completed installation of a brand new 10mm SMD video display in The Bill and Mae McCorkle Aquatic Pavilion at The Ohio State University in Columbus, OH.
Ohio State upgraded their 25mm video display, which was originally installed in 2005 to newer SMD LED technology. The massive display measures 35.8 ft wide x 10.5 ft high (10.9m x 3.2m) and is capable of showing scoring information, animations, graphics, and video (live and instant replay).
"We are very happy with the new video board," said Zach Skinner, Aquatic Director.
"The upgraded video technology is an asset to the Aquatic Pavilion," said Rick Connell, CTS Vice President and General Manager. "We value our relationship with Ohio State, and it's really exciting to see the installation complete at this amazing facility."
About Colorado Time Systems (CTS): Colorado Time Systems, a PlayCore company, has established a reputation for precision and innovation in swim timing equipment. Since 1972, premier aquatic facilities have chosen Colorado Time Systems for platinum quality timing, scoring and display systems. Learn more at http://www.coloradotime.com.
About PlayCore: PlayCore helps build stronger communities around the world by advancing play through research, programs, and partnerships. They infuse this learning into their complete family of brands. PlayCore combines best in class planning and education programs with the most comprehensive array of recreation products available to create solutions that match the unique needs of each community they serve. Learn more at http://www.playcore.com.