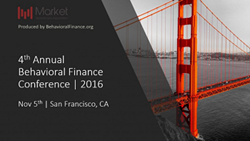 "Behavioral Finance has come of age!"
New York, NY (PRWEB) September 27, 2016
The Market Technicians Association (MTA) is pleased to announce a new partnership with BehavioralFinance.org to produce a first class event for global investors. The 2016 Behavioral Finance Symposium is a unique, full-day educational event conceived and curated by faculty members from UC Berkeley Extension, University of San Francisco, and Golden Gate University in partnership with professional organizations representing the financial community. Now in its fourth year, the conference will be graciously hosted by GGU at their downtown San Francisco campus on Saturday, November 5, 2016.
"Behavioral Finance has come of age!" says Richard Lehman, Founder of BehavioralFinance.org and Professor at UC Berkeley Extension and Golden Gate University. "We now have more than three decades of formal research on behavior as it applies to financial decision-making and academia has introduced the subject into mainstream graduate school curricula. Countless books are now in the public domain, and the subject is even finding its way into professional certifications and government policy. But these advances are still relatively recent, and the truth is that the vast majority of financial industry professionals never received a formal education in behavioral science. Our objective for the Symposium each year is to provide an immersive and enlightening experience for professionals and investors on this important subject." The event represents an educational forum where financial professionals, investors, industry experts, authors, and researchers come together to share and advance their knowledge of behavioral finance and to learn how these principles are being applied in the real world. Sessions are designed to help investment professionals:

Make investment decisions/recommendations with discipline and objectivity to remove subjective bias from their process
Understand how market trends are influenced by economics as well as behavioral biases
Recognize the complementary nature of multiple analytical disciplines which may provide an important link for understanding how some investors overcome natural human biases described in many behavioral finance studies and find unusual success in rules-based or systematic investing strategies
Apply research into psychological behavior pioneered by Daniel Kahneman and Amos Tversky, and serial correlation patterns in stock price data. The event facilitates thought about practical applications of behavioral finance in the use of price, volume and volatility studies as a means of risk management in the portfolio context
"As the governing body for the Chartered Market Technician ®(CMT) Program, we could not be more proud to be a part of this conference. Technical Analysis is the direct application of behavioral finance concepts and theory and we expect CMT candidates to understand and apply the material covered in our Body of Knowledge. Active investment managers work with prices of support and resistance or the persistent anomaly of price momentum. Human psychology and cognitive neuroscience explain these phenomena with concepts such as anchoring, recency bias, and the herding phenomenon. Whether you are managing a portfolio and need to understand your own emotional impact on trading decisions, or you are an investment advisor managing client relationships, the field of behavioral finance offers exceptional insights for practitioners worldwide."
The Behavioral Finance Symposium is also an opportunity to showcase the breadth of expertise at Bay area universities while fostering deeper collaboration between academia and industry practitioners. We welcome new participants to attend this November and encourage you to bring interested colleagues and clients. View session details and individual speaker biographies.
Date: Saturday, November 5, 2016
Time: 8:00 AM – 3:30 PM PT
Location: Golden Gate University, 536 Mission Street, San Francisco, CA 94105
Registration: General Admission $275
Discounted Admission made available through the MTA = $175
REGISTER NOW
*Conference includes breakfast, lunch and networking opportunities
Conference Hotel: W San Francisco
181 3rd Street, San Francisco, CA 94103
Hotel Room Rate: $199 + taxes & fees
Click here to make reservations online
Or, to make reservations by phone: +1.415.777.5300
About the Market Technicians Association (MTA)
The Market Technicians Association (MTA) is a not-for-profit member association of over 4,500 investment professionals in 85 countries. The mission of the MTA is to establish and maintain the highest professional standards among technical analysts by educating the investment community about the theory, practice and application of technical analysis.
The MTA is the home of the Chartered Market Technician® (CMT) Program, the preeminent, global designation for technical analysis and the only technical analysis designation recognized by the Financial Industry Regulatory Authority (FINRA) qualifying candidates for a Series 86 exemption upon passing Levels I & II of the CMT exam. The Chartered Market Technician® designation is awarded to those who demonstrate mastery of a core body of knowledge of investment risk in portfolio management settings.
Examinations for the CMT Program are administered twice a year in April and October at Prometric testing centers around the world. For complete information, please visit http://www.mta.org.
About BehavioralFinance.org
BehavioralFinance.org is the web site of the International Forum for Behavioral Finance and Economics (IFBFE), an educational organization dedicated to advancing the field broadly referred to as Behavioral Finance and Economics. Our aim is to serve as a centralized source of information for academia, industry, service providers, trade groups, and individual investors. We are an independent organization, supported by member dues and revenue generated from events we sponsor or services we provide.
We are less concerned with finding the perfect all-inclusive definition for Behavioral Finance than we are with incorporating any and all related topics into the scope of this site. As such, our view of Behavioral Finance may include everything from studies on brain function to the effects of group dynamics on market price action, or to cultural differences in financial decision-making. In other words, if we find something that is even remotely associated with the human behavior and financial decision-making, we intend to include it on our radar. http://behavioralfinance.org/